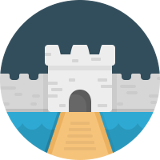 Control what your users can access and save time, money, and frustrations. Lock down sensitive data in SuiteCRM to specific groups or teams. Supports unlimited assigned users, unlimited group assignments to records, custom layouts for each group, login/sudo capabilities and much more.
#4016 - Error with the security suite plugin
In Progress
Bug?
created by ithelpdesk

Verified Purchase

9 months ago
We have the Suite CRM version 7.11.20 and have installed the corresponding Security Suite 7.11.20. As soon as we install and activate the Security Suite, we no longer have the possibility to add roles or users in security groups. So we can't set any permissions at all anymore. Also the Suite CRM permissions do not work anymore. We then have to restore a backup to be able to set the permissions. I hope you can give us a solution to this.
Supported Versions
7.6.2 to 7.12.6