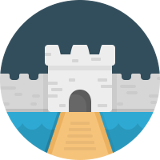 Control what your users can access and save time, money, and frustrations. Lock down sensitive data in SuiteCRM to specific groups or teams. Supports unlimited assigned users, unlimited group assignments to records, custom layouts for each group, login/sudo capabilities and much more.
#3709 - Layout hierarchy for use within departments
In Progress
Feature
created by diegoandsu

Verified Purchase

a year ago
Hi, We are quite happy with the enterprise edition of security suite, however we have come across a situation that makes long term maintenance annoying:
We have several product lines, each functioning as a separate business unit. Using different layouts for each (depending on needs) has been great, however there are cases were an area within the business unit needs a layout of one or two screens that is different from the rest of the business unit. Take for example the contracts module within business unit A: 1. Sales personnel need to be able to create contract drafts from opportunities/quotes but not be able to edit the "signed" date fields. 2. Legal personnel need to be able to do the process from draft to signature by both parties but not edit the production or billing fields (custom fields) 3. Implementation team needs to be able to do the process from signature to production/handover but not be able to edit any of the contract details (cost, products, signature dates, etc) 4. Accounting team needs to update the billing status of the contract (a few custom fields) but not change any of the other details.
All these 4 teams base their work on the "status" (and some other fields) but each group does not need to be able to edit all the fields, only the ones relevant to their part of the process.
We can use separate layouts for each area but because we are already using separate layouts for each business unit (not for all screens but you get the idea) we would have to clone all of the layouts for the business unit for each area and modify only the ones that need to be modified. This means we could have 5 copies of the same layout that are identical to each other for the modules where there is no need for modification because the screen rendered is based on the primary group of the user. In the long run this is both confusing and cumbersome.
I know our usage scenario is probably quite rare but if there was a hierarchy option , either in groups or layouts (probably better in groups) where one could say "GROUP A is the parent of a.1, a.2, etc" and all the children (a.x) groups use the layouts of group A unless there is a specific layout for them for a module it would be great.
Supported Versions
7.6.2 to 7.12.6