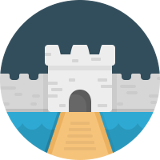 Control what your users can access and save time, money, and frustrations. Lock down sensitive data in SuiteCRM to specific groups or teams. Supports unlimited assigned users, unlimited group assignments to records, custom layouts for each group, login/sudo capabilities and much more.
#2700 - Filter Users avoiding whom is on Non Inheritable Groups
Closed
Feature
created by Lion Solution

Verified Purchase

2 years ago
Hi, i'm using the ENHANCED package.
I already activated the "Filter User List" option.
How is it possible (ie in advanced search Assigned User field) to avoid to see Users that are in a same Group but with the "Not Inheritable" flag on?
I mean: i want that lower level Users aren't able to see shared calendar of nor to assign activities to higher level Users.
Thanks in advance,
Supported Versions
7.6.2 to 7.12.6