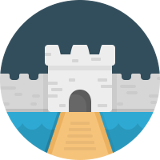 Control what your users can access and save time, money, and frustrations. Lock down sensitive data in SuiteCRM to specific groups or teams. Supports unlimited assigned users, unlimited group assignments to records, custom layouts for each group, login/sudo capabilities and much more.
#2478 - how to remove it?
In Progress
General Question
created by gulin 2 years ago
I canceled my trial subscription and tried to remove the module from the system now everything is broken, I can't get into the system I see only a white screen what should I do?
Supported Versions
7.6.2 to 7.12.6