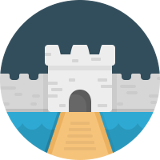 Control what your users can access and save time, money, and frustrations. Lock down sensitive data in SuiteCRM to specific groups or teams. Supports unlimited assigned users, unlimited group assignments to records, custom layouts for each group, login/sudo capabilities and much more.
#2241 - Inherit from Parent on existing records
In Progress
General Question
created by Amy 4 years ago
We have a security group for each sales person and their Accounts are assigned to their corresponding security groups. Their security groups have roles to define permissions. All is well.
However, due to the fact we were once 4 separate companies being merged into one, there will be a lot of account re-assignment in the future. When I change the "Assigned To", I noticed that the security group for the new "Assigned To" user is being automatically added, which is great. However, none of the other related/child records can be seen. There was another ticket regarding a similar situation with Opportunities and their related records but I was wondering if it's the same for Accounts. And if it is the same, would logic hooks still be the answer and are their any plans to extend the "Inherit from Parent" option to existing records as well?
Thank you!
Supported Versions
7.6.2 to 7.14.0