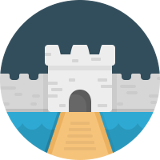 Control what your users can access and save time, money, and frustrations. Lock down sensitive data in SuiteCRM to specific groups or teams. Supports unlimited assigned users, unlimited group assignments to records, custom layouts for each group, login/sudo capabilities and much more.
#2118 - Trial has expired and I cannot i access my crm!
In Progress
Bug?
created by crm2 3 years ago
I have this issue when the trial of the plugin ended. It does not allow me to access my crm!
[lalizas@host crmdemo]$ tail -f suitecrm_22_07.log
    [last_result] => Array
        (
            [success] =>
            [result] => Free Trial was cancelled. Please purchase a new license on SuiteCRM Store to continue usage.
        )

)

Mon Jul 22 11:00:02 2019 [29314][1][FATAL] SecuritySuiteOutfittersLicense::get_internal_plan: no public key was provided in the last response. we still have invalid public key.
Mon Jul 22 11:00:02 2019 [29314][1][FATAL] Job 9c2d7314-5928-07fc-0217-5d35961c6d4c (Analytic Reporting Jobs) failed in CRON run

Supported Versions
7.6.2 to 7.12.6