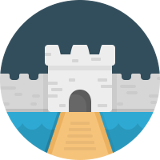 Control what your users can access and save time, money, and frustrations. Lock down sensitive data in SuiteCRM to specific groups or teams. Supports unlimited assigned users, unlimited group assignments to records, custom layouts for each group, login/sudo capabilities and much more.
#2047 - Notes and Target Lists missing Security Groups field to add in Studio for FILTER layouts
Closed
Bug?
created by cholly 3 years ago
Even though the Notes, Target Lists and Email Templates contain the Security Groups subpanels, when attempting to add the Security Group fields to Basic/Advanced Filter layouts in Studio, the Security Groups field is not available. When adding the field to custom metadata Search file (attempted with NOTES module), the field is in the filter but not with the multi select values. How should I resolve this? Thank you.
Supported Versions
7.6.2 to 7.12.6