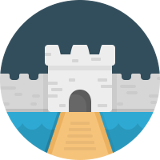 Control what your users can access and save time, money, and frustrations. Lock down sensitive data in SuiteCRM to specific groups or teams. Supports unlimited assigned users, unlimited group assignments to records, custom layouts for each group, login/sudo capabilities and much more.
#17 - Permission Settings
Closed
General Question
created by wpadmin 6 years ago
We have the following need:
We have two sales groups, each with a sales admin. The sales admin should be able to see all the documents their sales reps upload and the sales person should only see theirs. On top of that, we would like a Marketing Document group where everyone can see the documents associated with that group.
Is this possible with your extension?
Supported Versions
7.6.2 to 7.12.6