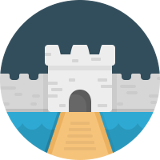 Control what your users can access and save time, money, and frustrations. Lock down sensitive data in SuiteCRM to specific groups or teams. Supports unlimited assigned users, unlimited group assignments to records, custom layouts for each group, login/sudo capabilities and much more.
#1535 - Security Overwritten?
In Progress
Installation
created by rickdolishny 3 years ago
We spent quite a bit of time setting up security groups and roles for our 200+ org.
We bought SecuritySuite primarily to take advantage of 'login-as'.
When we bought it and installed it, login-as worked but it seemed to break our permissions. For example, nobody in our 'sales rep' role could create anything: accounts, leads, contacts and more.
We disabled SecuritySuite and it all worked again, but we lost the login-as.
Is there a KB article or best practice for installing SecuritySuite and adopting existing settings? I'm not looking forward to setting things up again manually, unless there's a significant benefit.
Supported Versions
7.6.2 to 7.12.6