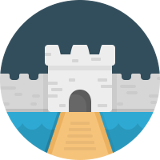 Control what your users can access and save time, money, and frustrations. Lock down sensitive data in SuiteCRM to specific groups or teams. Supports unlimited assigned users, unlimited group assignments to records, custom layouts for each group, login/sudo capabilities and much more.
#1309 - SecurityGroup has a deprecated constructor
In Progress
Bug?
created by sstewart 4 years ago
Good morning,
 We are receiving the following error in the SuiteCRM.log file multiple times every 3 minutes. It is mentioning the security group. Is this a compatibility error? Thanks in advance!

Mon Jul 30 11:42:31 2018 [6904][0050W000005gccOQAQ][FATAL] Caught error: Methods with the same name as their class will not be constructors in a future version of PHP; SecurityGroup has a deprecated constructor
Supported Versions
7.6.2 to 7.12.6