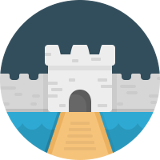 Control what your users can access and save time, money, and frustrations. Lock down sensitive data in SuiteCRM to specific groups or teams. Supports unlimited assigned users, unlimited group assignments to records, custom layouts for each group, login/sudo capabilities and much more.
#1072 - Key not working
In Progress
Installation
created by anuragchoube

Verified Purchase

4 years ago
Dear Team,
we have purchased key for Security group and firstly we installed it on Staging Environment to test the configuration and patch. It was working fine on the Staging environment. After this we uninstalled the module and installed it on our Production Environment. here the key is not getting authenticated.
Request you to please help us by sharing the setting / new key so that we can install this on production for further testing.
-Ashish Pathak +91-654000745 email: ashish.pathak@livpure.in
Supported Versions
7.6.2 to 7.12.6