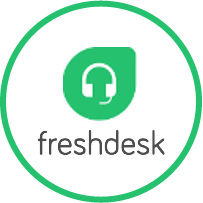 Streamline all your customer conversations in CRM. This Integration helps you to manage your customer support case into CRM. It will create cases, account, contact, replies in CRM and will relate each other.
Create Case
Support Cases
Author
Status
Type
#2848 Cannot get it working either -

Instructions are not correct but after working out the automation side the plug-in still does not wo

gregdarby

Open

Bug?

#2774 Can't get it working -

Hi team, I followed the instructions to install and configure the the addon. However, it is not work

Andy

Open

Bug?

#2687 Refund request -

We still can't get the plug in working with Freshdesk both ways as it should and at this point are g

matthew1

Open

General Question

#2569 Replies not being synced to SuiteCRM as notes -

All replies from Freshdesk and customer e-mail replies are not being created as Notes in SuiteCRM

matthew1

Open

Bug?

#2568 Case updates in SuiteCRM don't update freshdesk and causes duplicate tickets -

Hi there, just installed the trial and running into some issues. First thing is the setup guide a

matthew1

Open

Bug?
Supported Versions
7.0.0 to 7.11.15