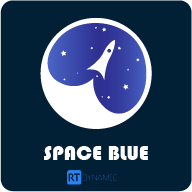 Personalize your SuiteCRM experience and make the platform easier to navigate with the new RT Dynamic Space Blue Theme!
#3035 - Configured theme in mi SuiteCrm
Open
Feature
created by direccion

Verified Purchase

2 years ago
Hi, i installed theme in my Crm, now i can see some changes but i can´t find where i can configured the login and another changes for the instance. Can you help me??
Supported Versions
7.0.0 to 7.12.6
Most Recent Love from Users
scott7