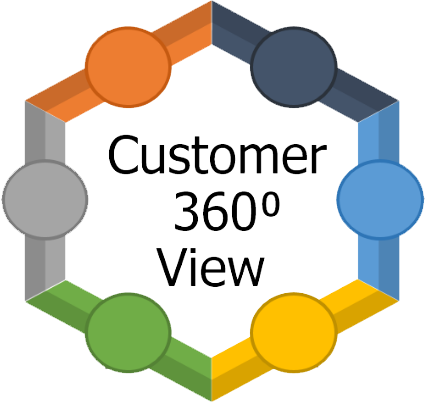 Discover everything about your customers starting from their first interaction with you to the average revenue generated by each of them. The plugin will empower you with the ability to improve each interaction with your customers and nurture long-term professional relationships with them.
Brainvire provides an effective solution and service with the SuiteCRM and Customer 360 integration.
With Customer 360-degree View, you can be more precise in your customer segmentation and develop targeted marketing campaigns for each segment.
We have given 360 view on contact detail page so with just one click you got all the information of your customer.
In This Plugin, We have customized the contact detail page to showcase everything. We have also included 2 new tabs as below.
- Customer Journey Tab
- More Information Tab
Main Header part
Here in below screenshot you can see that we have cover up all the default modules of suiteCRM.

Here we have customize the activity panel of the suiteCRM by adding the filter options. when you click on scheduled calls at that time it will scroll down and open the activity panel with the filter option.


Below sections data all are connected with our eCommerce sections. If you have install our optional Magento bridge plugin then you can enable this functionalities via admin settings.
First Purchase Date
Last Purchase Date
Total Revenue of that customer
Purchased product till date
Average Revenue of that customer

Along with that we have also implemented google map on billing and shipping related information as below.


Customer Journey Tab
In Customer Journey Tab you can see all the information regarding your activities till date.

When you click on + sign then we have given more detail information of that activity. also when you click on "View all changes" button on right side then it will redirect to change log page on a separate tab.

More Information Tab

Here we have also include the customer order related journey but for that you need to have our optional magento bridge plugin to be installed into your magento 2.X side.
Below is the admin settings page. when you click on that it will open the settings page and all the sections are related to our magento related functionalities. you can enable or disable that sections according to your need.
Please note that if you enable this feature and if you have not used our magento bridge plugin then this features are not worked.


Here we have implemented no of API's into our magento bridge to sync all the information into CRM. Below is the list of that.
No of Visit Section In More Information Tab
Last 10 Product Purchase
Customers Order History
Customers Abandoned Cart
Customers Browsed Product
Customers Wish-list Product
Next Best Action Product

For any assistants or the demo you can reach us at crmsupport@brainvire.com any time.
Supported Versions
7.0.0 to 7.11.15