If you are a SuiteCRM owner, you can provide users with field-level access in your CRM through SuiteCRM Field Level Access Control. Our plugin enables the admin to display only relevant field data to users who have been assigned roles.
#3123 - Resricted field is shown in detail view
Hi,
I restrict some field like email. It is OK for list view and edit view. But when i check detail view it is not working.
Settings

Listview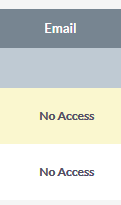 Editview

Detailview

Supported Versions
7.10.0 to 7.12.6