Scalable, Enterprise-Class solution for integrating SuiteCRM with Exchange / Office 365. Synchronize contacts, calendars and tasks. Set rules for auto-archiving of incoming/outgoing emails. Combine (optional) with an Exchange / Office 365 add-on that presents an Email Side-Panel in Outlook and allows users to view, create and edit CRM records from within Outlook.
#461 - Sync does not link for all email items
Dear support,
We have purchased 4 client licenses for your product Implicit FronEnd to sync the emails between MS Exchange an SuiteCRM. One on account we have a problem that not all tagged emails will be synced properly to SuiteCRM. Please see the view in Outlook at the screenshot: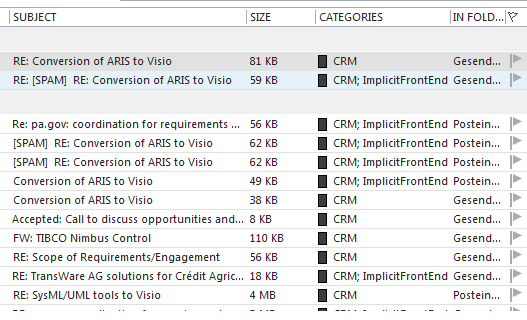 Please let us know which additional infromation do you need to analyze the issue properly.
Best regards, Sascha Cappel TransWare AG email: sascha.cappel@transwareag.com
Supported Versions
7.0.0 to 8.1.2