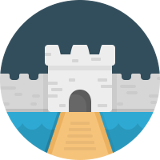 Control what your users can access and save time, money, and frustrations. Lock down sensitive data in SuiteCRM to specific groups or teams. Supports unlimited assigned users, unlimited group assignments to records, custom layouts for each group, login/sudo capabilities and much more.
#3501 - Integration modules not working
In Progress
Bug?
created by lucalieggi

Verified Purchase

a year ago
When I create relationship through integration module, nothing happens. The plugin should create the new subpanel under the custom module.
Could you kindly verify this issue?
Thank you
Supported Versions
7.6.2 to 7.12.6