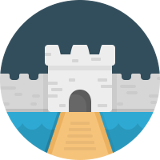 Control what your users can access and save time, money, and frustrations. Lock down sensitive data in SuiteCRM to specific groups or teams. Supports unlimited assigned users, unlimited group assignments to records, custom layouts for each group, login/sudo capabilities and much more.
#2741 - How hide Select button in subpanels?
Open
Feature
created by Ward

Verified Purchase

2 years ago
Today it seems impossible (without adding custom code to every module) for us to hide the 'Select' button from certain subpanels for certain Roles. This permission loophole allows the user to add Contacts or Accounts etc. to records via subpanels even though they do not have Create permission for that module.
Offering the ability to use Teams Edition to selectively hide subpanels via Custom Group Layouts (see https://store.suitecrm.com/support/securitysuite/2712) would cover most use cases, but to cover all use cases, controlling the 'Select' button in Role management would close remaining permission issues - can you add 'Select' to the Role tool, just like you added 'Create'?
Supported Versions
7.6.2 to 7.12.6