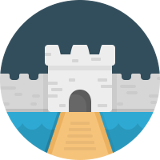 Control what your users can access and save time, money, and frustrations. Lock down sensitive data in SuiteCRM to specific groups or teams. Supports unlimited assigned users, unlimited group assignments to records, custom layouts for each group, login/sudo capabilities and much more.
#1322 - User with full access to SG can't filter by SG
In Progress
Bug?
created by info50 4 years ago
Users with full access in roles to SG module can't filter by SG. Only the admin see all the security groups in filters. We found this behaveour in cases, where we need to use it.
Supported Versions
7.6.2 to 7.12.6