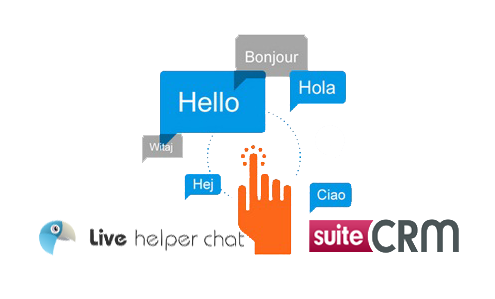 Seamless Hassle-Free Integration with SuiteCRM Reduce up to 90% customer identification time Great opportunity to cross-sell and upsell Better closure of online sales and orders
User Guide
Live Helper Chat Integration Step-by-Step User Guide
Live chat helper tool User guide Video
OR
Step 1
Sign in with your Username and Password to login to Live Helper Chat
Step 1 . 1
You can see the pending chats and accept the chats directly from the Live Helper Chat Dashboard
Step 2
Interact and chat with visitors directly from the Live Helper Chat window and also see the visitors primary information. You can also easily switch different visitors just by clicking the chat names.
Step 3
Click on SuiteCRM extension to easily create a record and add to leads, accounts, contacts directly from the Live Helper Chat tool.
Step 3 . 1
Click create records tab to see the all the information of chat visitor.
Step 3 . 2
Upon clicking the + you will see the drop-down of lead and once you click on the lead - it will direct you to your CRM where you can all the lead chat transcripts
Step 4
Now log in to your SuiteCRM and under History tab you will find all the chat transcript to view and see the details.
Thanks for reading. All the best with our Chat Tool Plugin!
Live chat helper tool installation guide Video
You can write us on waseem@fynsis.com for any queries/concerns regarding User guide.
Supported Versions
7.0.0 to 8.2.2