User Guide
General Concept
Recycle bin
The Recycle bin is a module that stores deleted objects for any module that you select and allows the user to restore previously deleted data items. It works for both default and custom modules built-in SuiteCRM.
The Recycle bin has the following advantages
Users are able to revert an unintended deletion of items.
CRM administrator is able to archive or recycle records that are currently not in use but may be needed in the future.
Data is undeniably valuable in every business and loss of data means loss of business. Be ready for accidental deletes by having Recycle Bin on standby.
For using this, you should have Administrator access to the CRM. Access the Admin panel: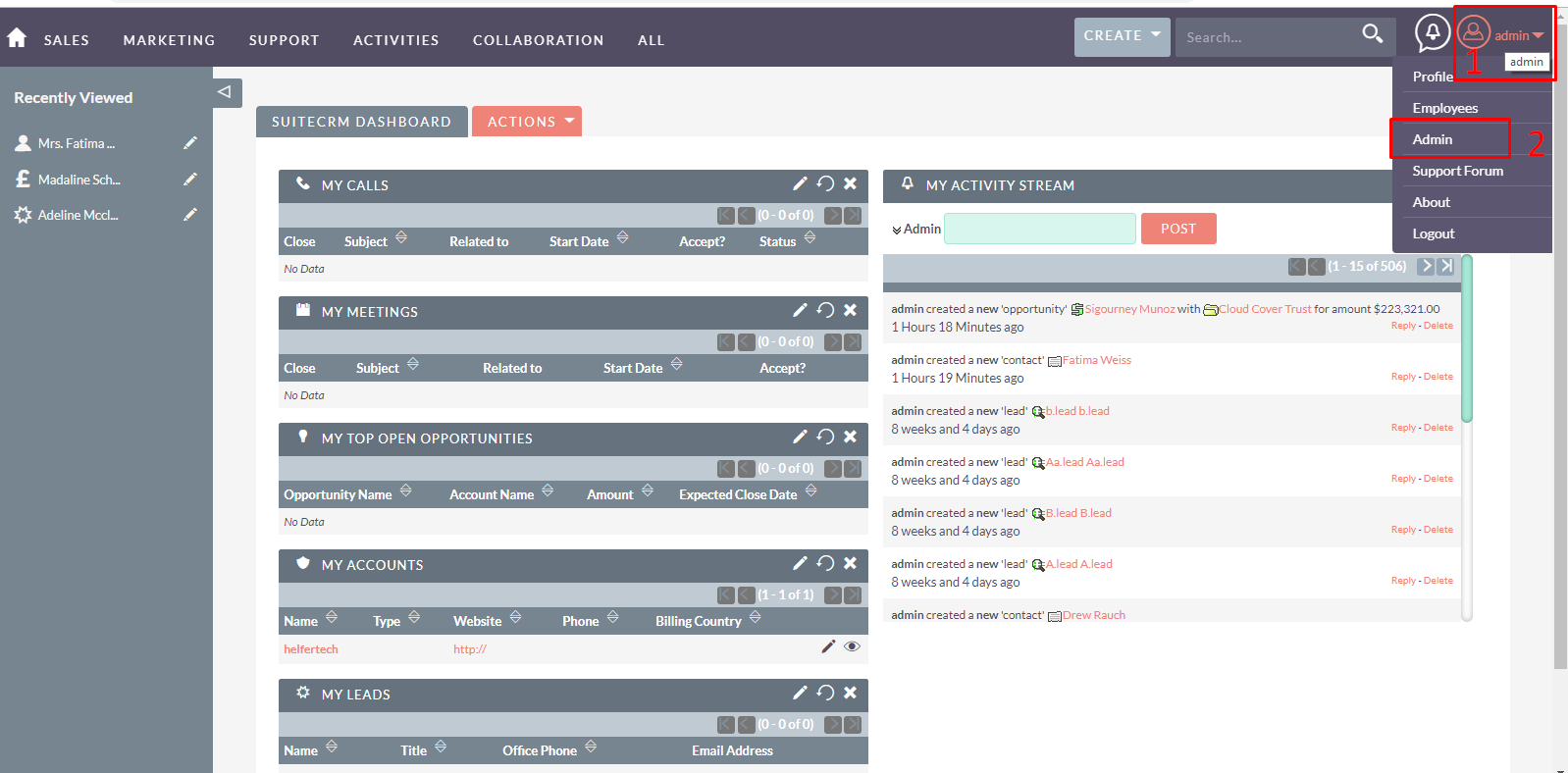 Find and click the Recycle Bin from the Admin panel:
Select a module from the drop-down, for the respective module do you want to restore the deleted data.
Select any Module i.e. Account
Click on Next Button

Find deleted items
The Recycle bin has a few options for sorting and filtering the listed items:
To display only items of a specific type, you can search by an item from the filter option.
You can sort the list by ascending & descending Order
VCR Controller Used for pagination.
Restore deleted Items
With the Recycle bin, you can restore items, which are deleted by mistake. You can do this in one of the following ways:
You'll be shown a list of deleted records from that module.
Make a selection of records you want to process.
Click the Actions link of the respective item.
Click "Undelete".
It will reside again in the respective module you selected.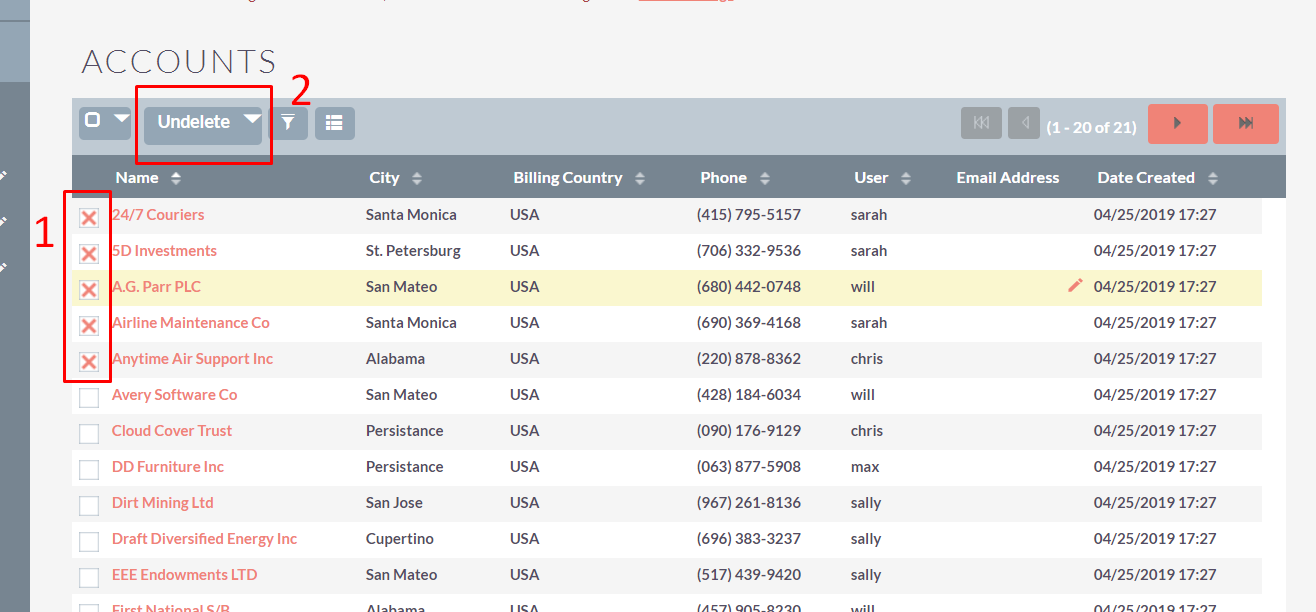 Delete Items permanently
When you delete items from the Recycle bin, the items are permanently deleted. You can do this in one of the following ways:
Select one or more items from the list.
Click the Actions link of the respective item.
From the dropdown menu, Click "Permanent Delete"
All selected items will be deleted.

Popup View
Provides you an amazing feature it will open a record in a new tab for the respective module to quick view:
You can see the detail of any item in popup view or also can "undelete" or "Permanent Delete" of any respective item.
when undeleting any of the records from the pop-up window, it will be open in new tab
When permanent delete, it will redirect on the listing page of recycle bin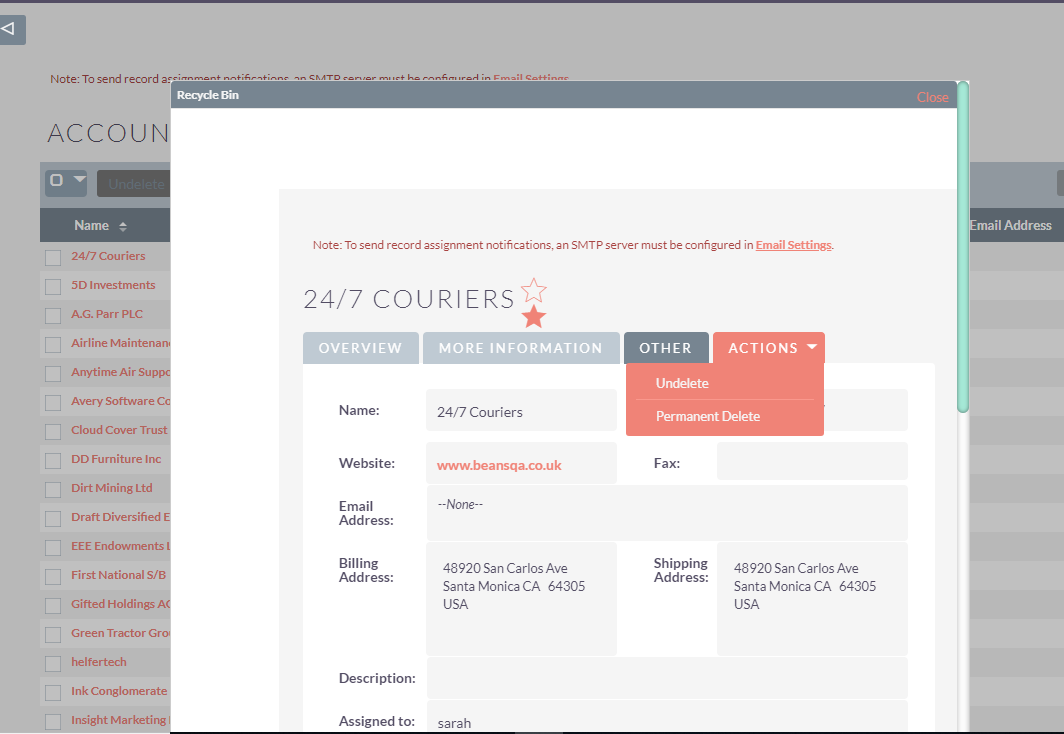 Supported Versions
7.0.0 to 7.11.15