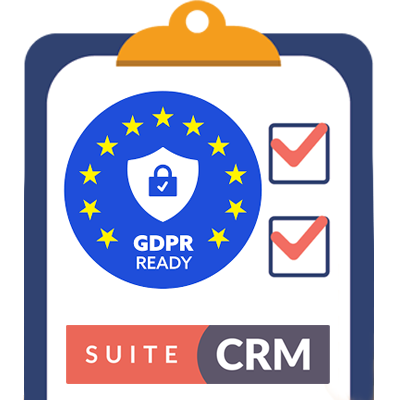 A GDPR Data Privacy solution for SuiteCRM provides companies like yours with the tools to build trust while enhancing customer experiences. This customized solution is not just about meeting GDPR Regulatory, But this solution implements best practices for data privacy into how they do business. It is an opportunity for the Company's customers to build a relationship based on trust and transparency with their own customers.
Frequently Asked Question
1) How to change the content from the GDPR Request form?
If you want to change anything on the request form. You can do it two way.
- One is to edit the SuiteCRM file system so each time you download it, you will have the same file form as you changed. Path to edit is modules/ut_DP_Request/dataprivacy_requestform.html
- Download the form then apply your changes.
2) How to change the content of GDPR Consent form?
You can edit the modules/ut_dataprivacy/tpls/getConsentForm.tpl file to change the content of GDPR Consent form.
3) How to identify records that the user should not process further?
In each supported module, Contacts, Leads, and Prospects have a flag field called "Restrict Processing?" that will be checked when SuiteCRM receives a request for "Restrict Data Processing" and DPM make it complete. It will automatically flag that fields to restricted. So you can put that field in Listview as well as in search view from the studio. So your users will always filter with this field to identify those records that are not needed to process further.
4) What is the GDPR Request field in Contacts module?
"GDPR Request" field is a dropdown field that is automatically updated based on the GDPR Request related to that Contacts. Same way for other supported module.
- In progress: When Any GDPR Request comes and that is in Open states for that record will be set as "In Progress".
- Complete: When all the GDPR Request related to this record are closed. It will be marked as GDPR Request complete.
5) Can we change the Email template of Consent Request?
Yes, you can change it the way you want it. but make sure you should not remove "$consent_url" this variable from the template. As it will parse the button based on this variable and creates a link.
If You Can't Find The Answers You've Been Searching For. You can contact us anytime
Supported Versions
7.9.0 to 7.11.18