---
When the internet was in its infancy, big transactions were not made as easily as we make them now.
Things did not seem 'just the click of a button' away. Sure, books were one of the first things Amazon sold, and some computer parts were available exclusively in online stores. But things like making travel plans, which included hotel booking, transportation, selecting package tours, etc., were not always trusted to be done online.
You would physically go to your travel agent, and they would wrangle you into one of the limited package tours they offered, and you would have no say in it. Thankfully, we've come a long way from those days. The online travel industry has become a flourishing one primarily because of the trust it has built.
The big shots like Booking.com, MakeMyTrip, Expedia, TripAdvisor, etc. have transformed this business. And now, little league players are willing to bring their businesses online. Small travel companies and independent agents are looking to expand their businesses by putting it on the internet. For this, they need websites and travel portals.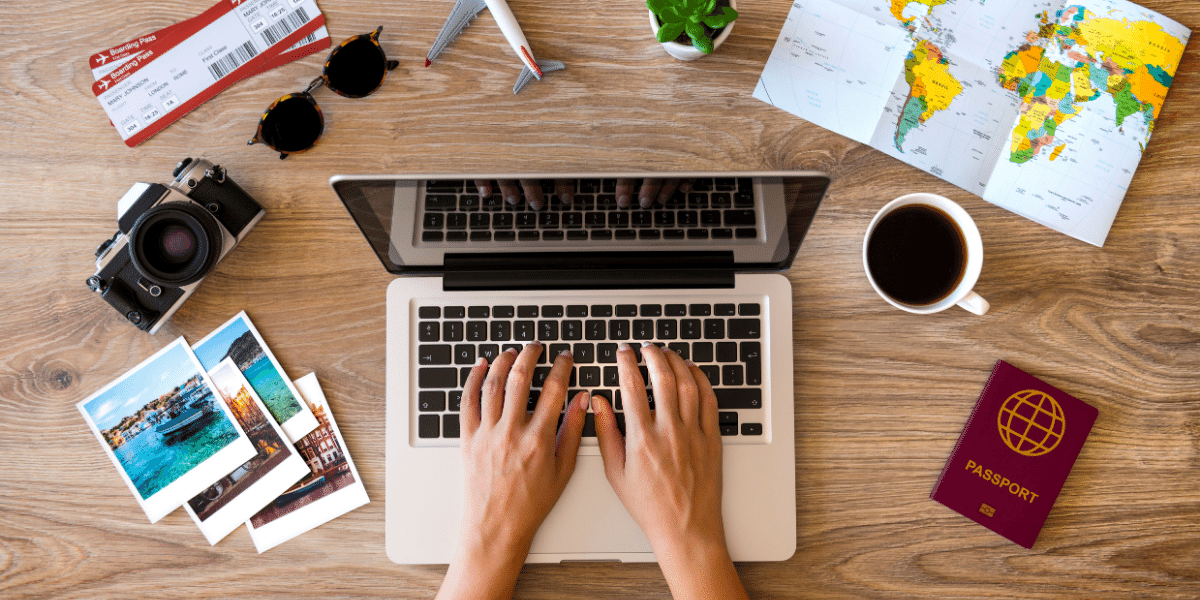 Let's get into why an online travel portal is an asset.
Let's assume you already have SuiteCRM, and you would like to start a travel business. In this case, the SuiteCRM Customer Portal would be ideal for you. It would give you enriched transparency and convenience, better variety of options, active access, and reduced costs.
Reduced Costs
With a traditional travel agency, you need to hire people who will explain the various packaged tours, books tickets/hotels and the like. The more people you hire, the costlier it gets to run your business. With SuiteCRM, your customer portal takes care of all that. It explains the packages, helps the customer pick what's suitable for them, and lends a hand in booking transport/stay.
Vast Variety of Options
If you wish to have more options to pick from for your stay, transportation (dates and prices), packages, car rentals, hiring a tour guide, activities in your destination, etc., then an online travel portal is the right place for you.
Enriched Transparency and Convenience
Nobody likes hidden costs. With an online travel portal, you don't need to worry about them. Their goal is to give you prices without adding extraneous costs later on. Which is, see what you will pay. They give you a proper breakdown of the bill, including taxes charged by the accommodation, whether you added a meal or not, and other charges.
Another major convenience is that of booking the accommodation/transport. You don't need to take several trips to your agent to check out pricing and options. You can do all that through the portal. It even lets you compare prices, amenities and the like, so you can pay the best price convenient for you.
Active Access
Because the travel industry has expanded so much, there are bound to be fluctuations in prices day-by-day. There could be offers and discounts going on one week, and be gone the next. An online travel portal makes you aware of these daily fluctuations so you can get the best price of the day on everything regarding your trip.
These are all the general benefits of an online travel portal. Let's consider what you should be on the lookout for when building such a portal.
If you are a business owner/admin, then you need to look out for certain things:
You should be able to view, manage, update your customers' travel details as and when needed.
You should be able to manage your customers' various bookings by having a bird's eye view of it. Having everything in one place for each customer helps avoid error.
Manual identification during check-in takes a lot of time, so make sure there is a feature for online identity verification on your travel portal.
If you are an independent travel agent that hosts other travel associates and need to have an online travel portal, then consider the following when picking a portal:
Every agent/associate should be able to calculate and track the commission they get with every booking.
The portal should allow everyone involved to put in a credit system for customers which leads to repeat bookings and expansion of the customer base.
There should be a system which allows discounts on bookings for agents. This also helps to adjust what sort of commission fee they get without harming the profit of the business overall.
Most important of all, the thing that makes everything work, the customer. Your portal should be customer-friendly on all fronts:
Checking availability and booking should be a seamless experience for the customer.
You should offer multiple payment options and the portal should even provide a feature where they can save a particular method to make future transactions easier.
There should be an extensive list of hotels, motels, their ratings, customer reviews, photos, charges, etc. Along with these, make sure to have comparison and filter options so the customer can pick precisely what they want.
The travel portal should have a history of each customer that has signed up with it, in case of repeats, refunds, complaints, or otherwise.
After knowing all the features of an online travel portal and what goes into making one, you can now make an informed decision when choosing a portal solutions company to help you take your travel business online. Learn more about a SuiteCRM Portal in WordPress or for Joomla and how it can seamlessly integrate with your business.