---
Glances gets personal (in a good way)
While AI and automation tools are designed to make our work lives easier, there are still major gaps in your team's daily workflows that can't be automated and must be dealt with...manually.
That's where Glances, our patented integration platform, simplifies your growing tech stack. It securely connects SuiteCRM and all of your business apps to automate tasks, streamline work, and keep tabs on all your data without all the tabs!
Below, we'll cover 2 new features: personal connections and simpler navigation.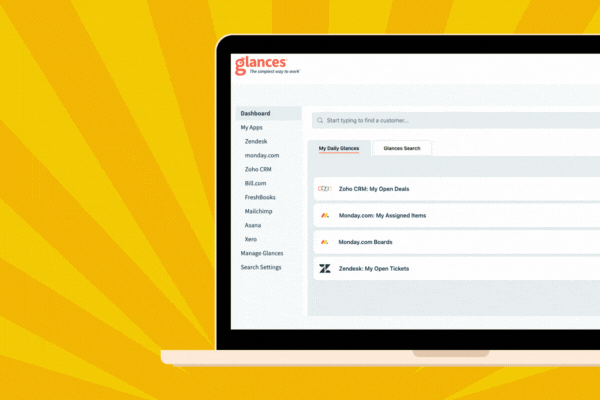 1. View data that's private to you with Personal Connections
Now you can have both team and personal connections to SuiteCRM and your various business apps, providing easier access to calendars, tasks, and more whether work-related or not. While a team connection is shared with all team members, a personal connection is private to you. Get started with a free Glances trial, then follow the prompts to search and connect your personal app accounts.
2. Simpler navigation and connection process
The Glances dashboard is the place to be, from utilizing search to see your live data anywhere, to connecting and controlling your favorite business apps. We have now streamlined the dashboard and enhanced the process of managing all the apps you need. We think you'll enjoy this front-and-center view of your connected apps. See how it looks in the product shot below.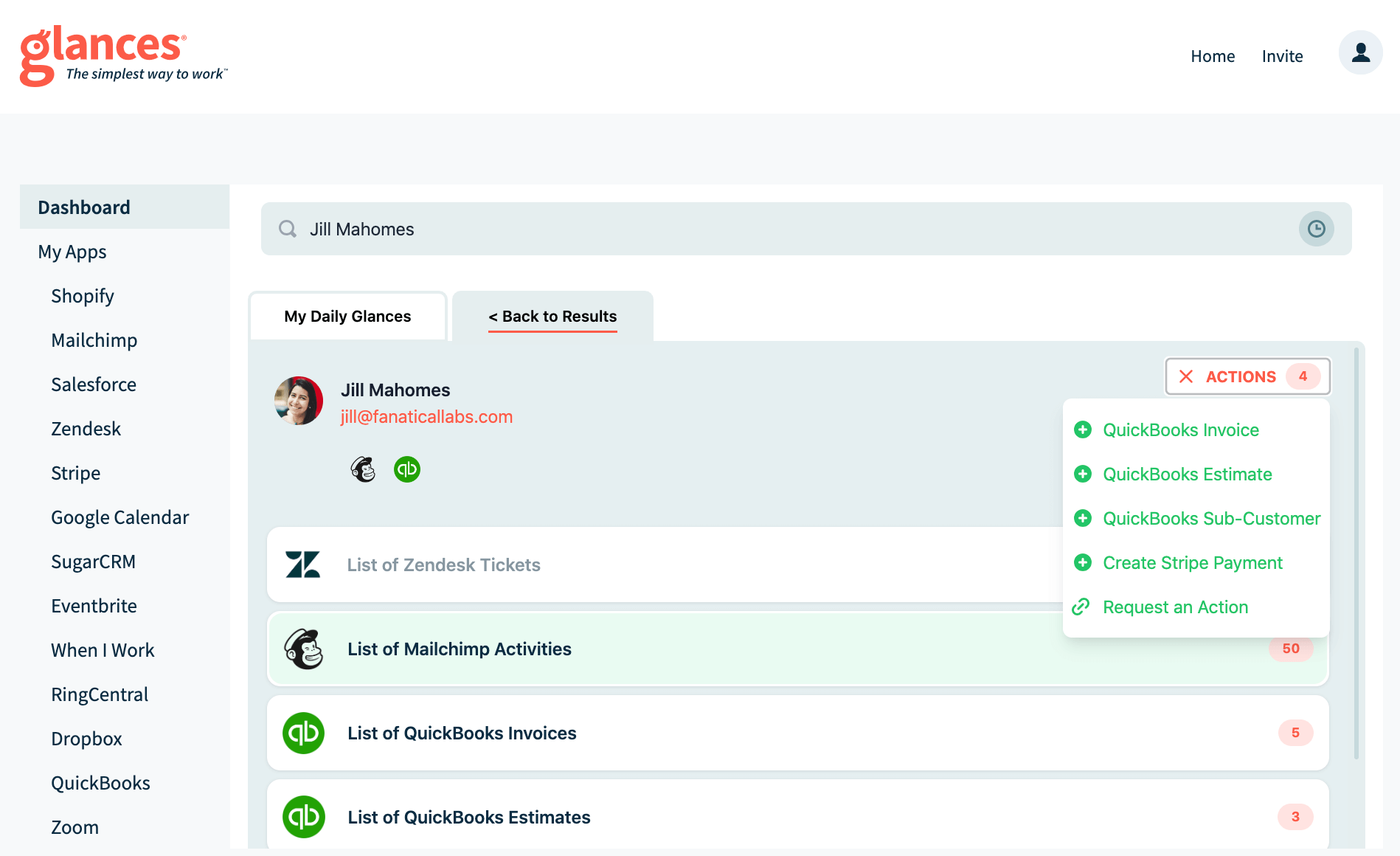 Glances Actions
Now you can quickly perform actions related to one app while working in another, such as creating invoices and estimates, sending applications, starting virtual meetings, and much more. Simply click the Actions menu in Glances to see the available options and start crushing your to-dos, saving up to 20 minutes per task. Watch video below:
New to Glances?
Glances is a no-code integration platform that works on any webpage you visit or within any app you use, helping you and your team eliminate roadblocks and get back to The simplest way to work™. When you connect SuiteCRM with Glances, you can view your live customer data while working in any app outside of the CRM. If you prefer to work in apps like QuickBooks or Mailchimp, your CRM data is always available. See how it works in the animation below: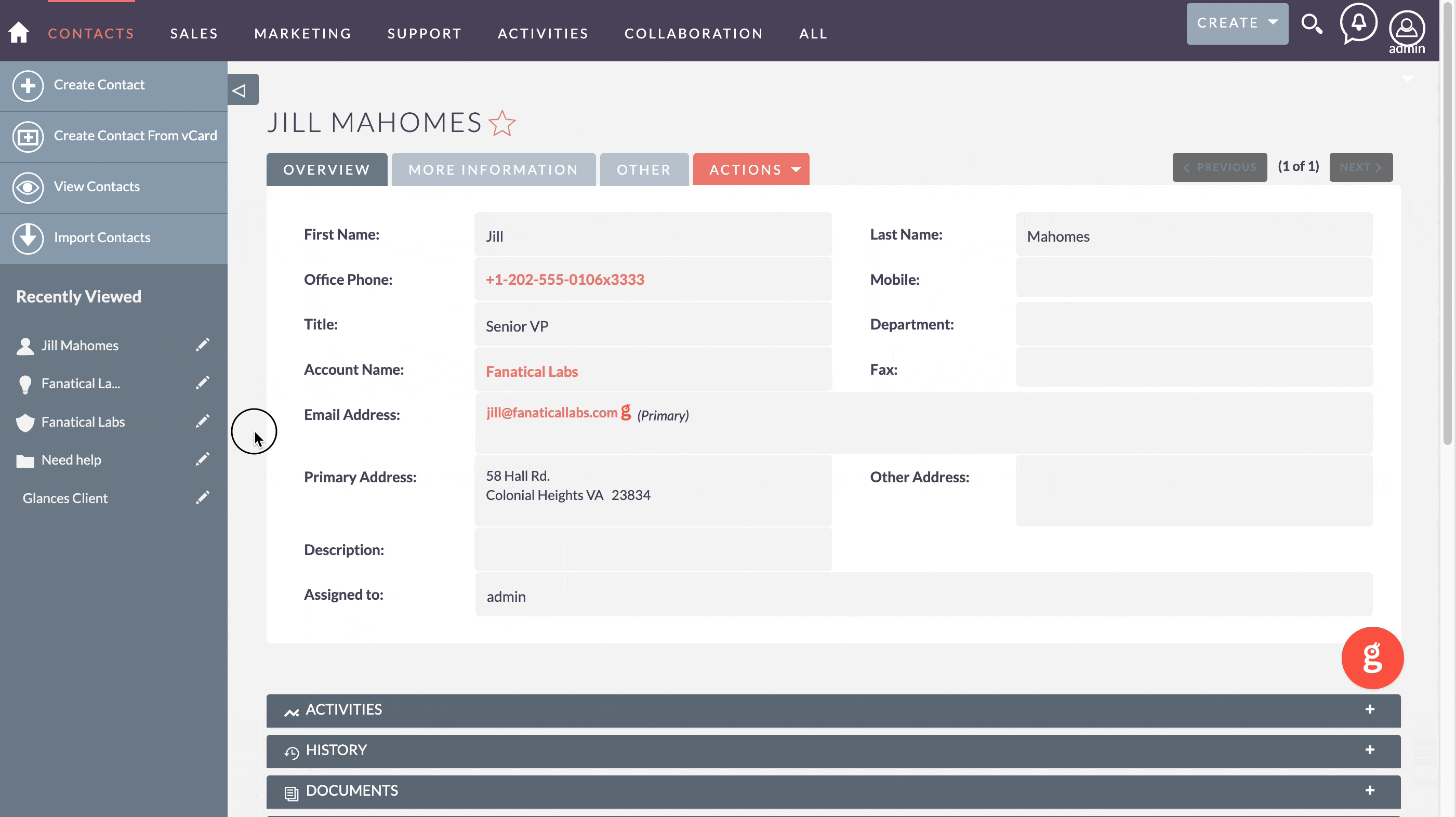 To learn more about integrating SuiteCRM with your company's full tech stack, visit the Glances listing page.