---
Highlevel Overview
The SuiteConnect add-on by CRMHosting enables you to connect IP telephony from both Asterisk PBX and Zadarma PBX to your SuiteCRM system. Empower your sales, service, and support teams to save time with convenient features right in the CRM, such as click to call, outgoing and incoming call data, pop-up panel for quickly previewing callers, and much more. Stay working in SuiteCRM while taking important incoming calls and making outgoing calls to new prospects and existing customers.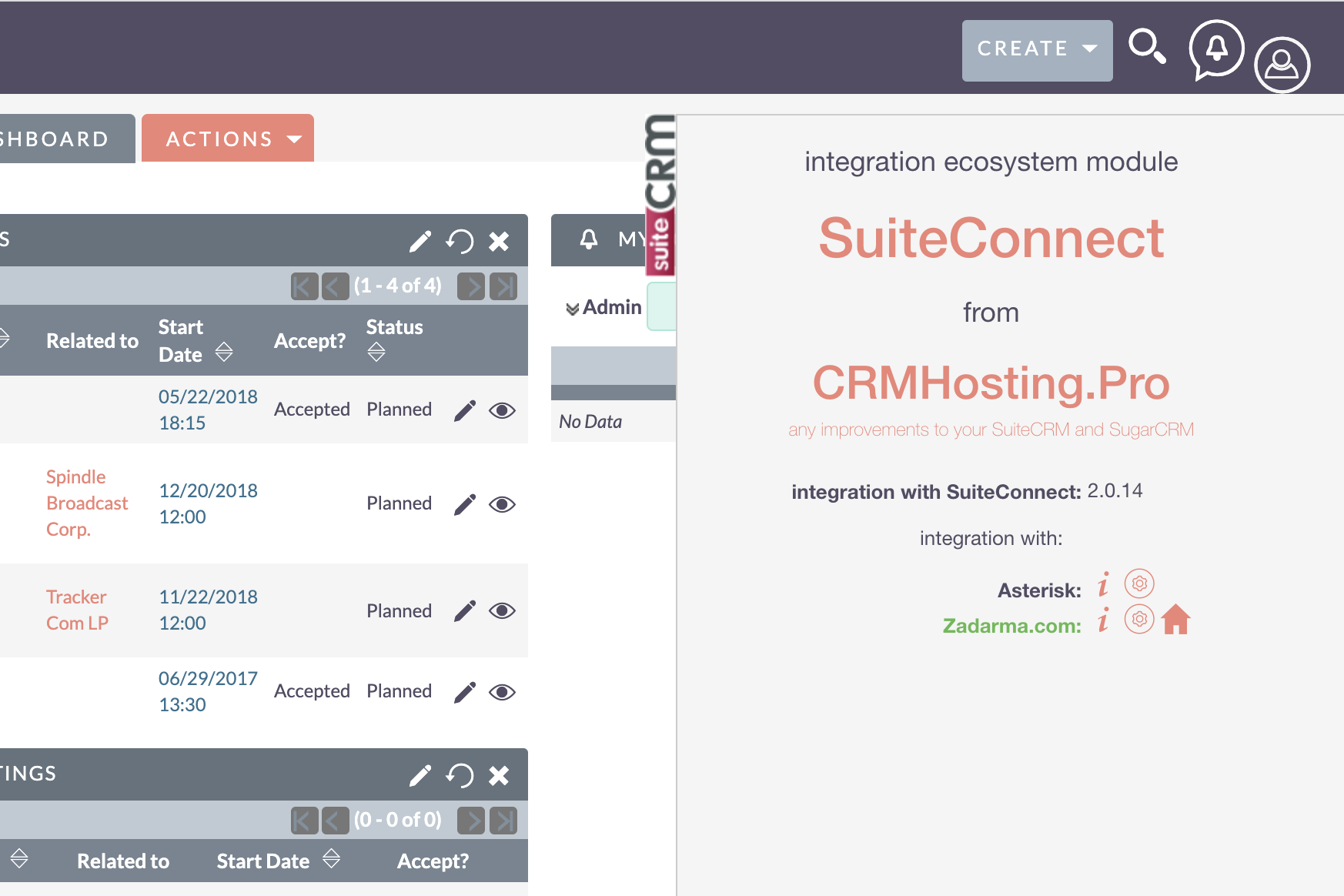 Some Key Product Features
Recording a conversation:
Specify where you would like to store the recordings of your conversations – on a server provided by the service or on your own one (if you have enough space to store such a data amount).
Assign an inbound call to:
If you select "employee answering the call," then the conversation will be recorded to his name. If you select "employee assigned for the client," then regardless of who called, the conversation will be recorded to the employee responsible for this client. In other words, the focus is on who called in the first case and on the client in the second one.
The call was made, the phone number was not found:
Select what the CRM system needs to do if the call was made from a number that the database does not have – add it as a lead (to subsequently expand the database) or nothing to do.
Name of the inbound/outbound call:
In this item, you can specify the name of the call or supplement it with available variables. For example, by clicking "Available variables," you can select the number from which the call was made and when you call, you will be shown the following message "Inbound [phone number]."
Contact:
Source required: this means that the caller should necessarily tell about the source from which he learned about the company. This feature can be used to determine customer sources to increase performance/traffic, etc.
Source:
Ability to add: this item provides adding new sources for recording in the system. That is, every time you make a new call and you need to select a source that is not on the list, you can add it.
To learn more about this solution, go to SuiteConnect or search for "PBX integration."