---
Highlevel Overview
With the SuiteCRM WhatsApp Integration by Verity Infotech, enjoy the convenience of two-way WhatsApp communication from the conversation chat window. Send single, bulk, workflow and scheduled messages to stay top of mind with your customers in a way that's easy for them to engage.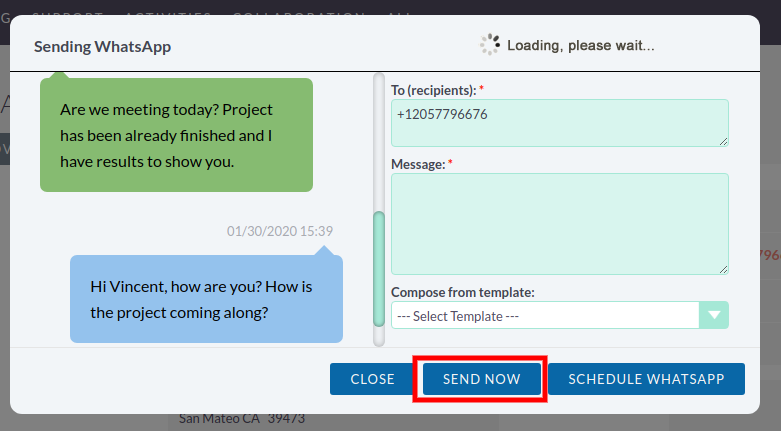 Capabilities List
Two-way WhatsApp conversations
Send single and bulk WhatsApp messages
Schedule WhatsApp messages
Use existing email templates as WhatsApp templates
Easy workflow configuration
Create and manage WhatsApp templates with dynamic fields
Inbound WhatsApp notification
Relation of outbound/inbound WhatsApp with records
Improve level of customer service
Customer experience tracking, cross-selling, retention and more
WhatsApp texting CRM integration initiates reminders and notifications
Schedule anniversary and birthday WhatsApp messages
Feature Highlights
One-Click WhatsApp Sending
You can see below images for sending WhatsApp from Detail View and List View of any module
Keep all your conversations organized

Sending Mass WhatsApp Messages
You can send mass WhatsApp messages from List View of the Leads, Contacts and Accounts modules.

Scheduling WhatsApp Messages
Open WhatsApp window and click on Schedule WhatsApp so it will redirect you to create a record with all value set in that record.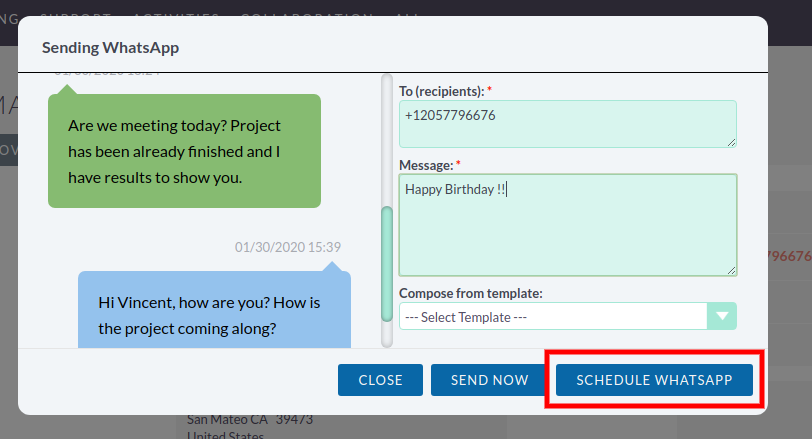 To learn more about this solution, go to the SuiteCRM WhatsApp Integration, or search for "WhatsApp."