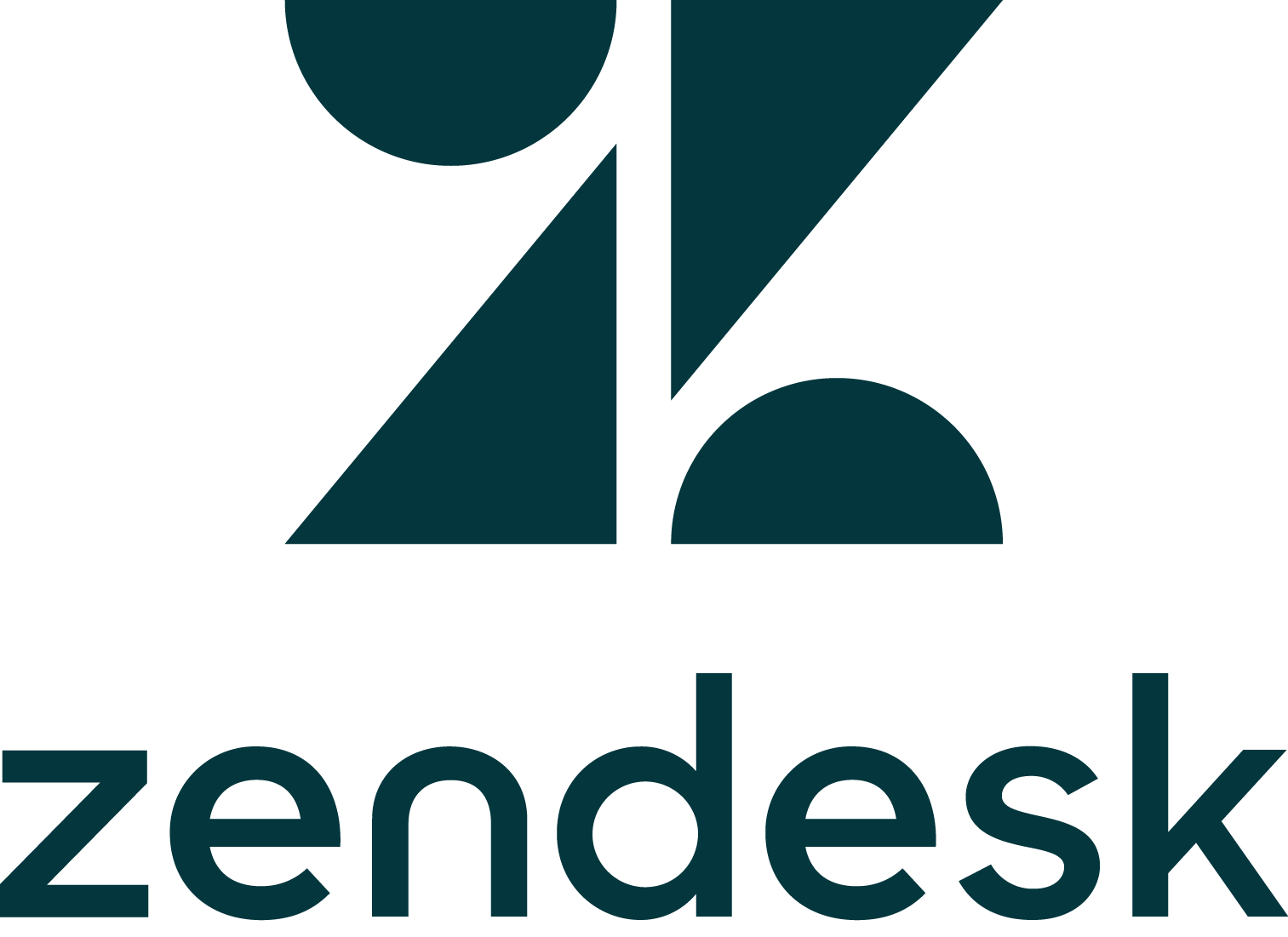 Empower your support and sales teams with clear visibility to the right data, right when they need it. With the Zendesk and SuiteCRM integration, your teams will be able to stay up-to-date on all relevant records whether they're working in Zendesk or SuiteCRM.
Connect and Empower Your Zendesk Agents and SuiteCRM Users
Toggling between systems to find crucial customer data not only wastes time and energy, it creates workplace inefficiencies that will likely affect your support efforts, sales revenue and reputation.
Fanatically Zen was developed to help solve these issues by integrating the best features of two popular platforms: Zendesk and SuiteCRM.
Once installed, this high-quality integration enables your sales, marketing and support teams to seamlessly connect and quickly view relevant data. From seeing SuiteCRM information inside Zendesk, to viewing all public and private ticket comments within SuiteCRM, Fanatically Zen provides contextual data views without any extra effort from your employees.
Now you can save time and stay more Zen, even while handling the toughest support cases.
See Fanatically Zen in Action
Test drive Fanatically Zen now.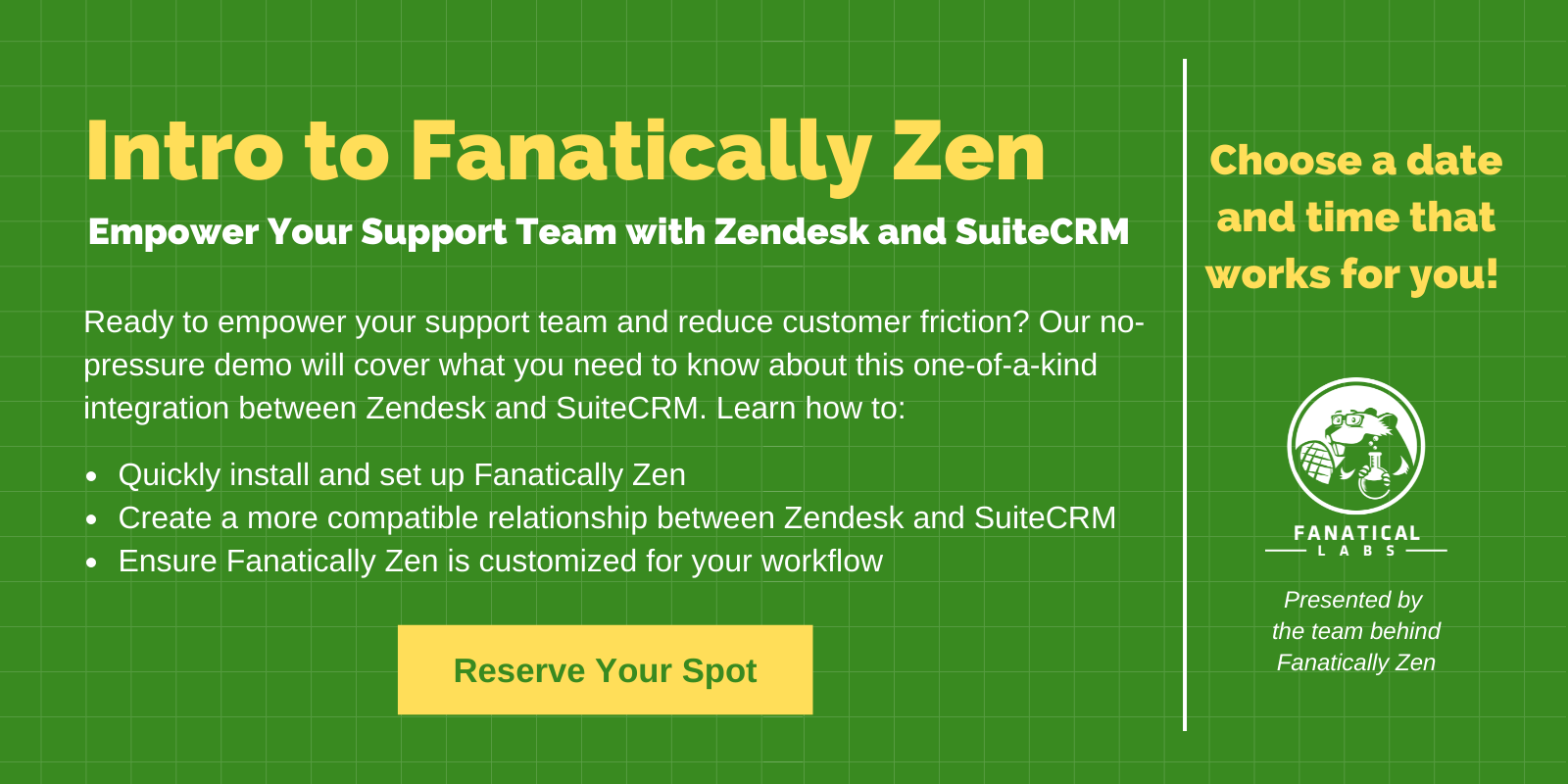 ---
View Zendesk Tickets In SuiteCRM
Fanatically Zen helps SuiteCRM users stay up to date on current customer issues, so they're never caught off-guard when reaching out. SuiteCRM users can easily see all Zendesk tickets from a specific contact or an account right within the SuiteCRM dashlet. This feature helps users avoid potential embarrassment, in case they are not aware of a priority issue before connecting with a customer.
After installing the module and adding the Zendesk Tickets dashlet in SuiteCRM, users can see all of the associated Zendesk tickets for SuiteCRM contacts, leads, accounts and opportunities.
See how it works: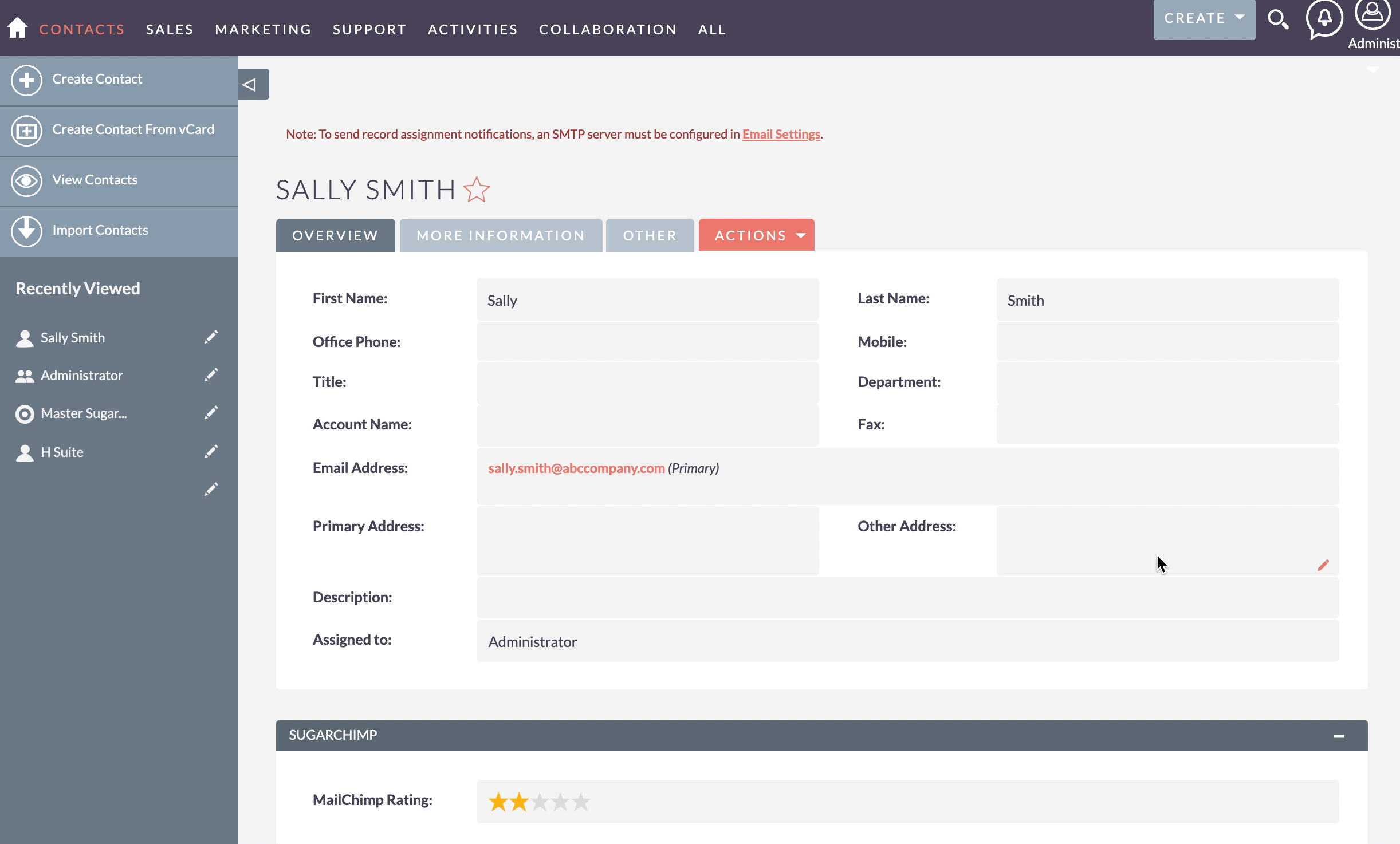 Using dashlet filters, SuiteCRM users can easily sort to find the exact tickets they need without flipping back and forth between their CRM and Zendesk. Click the arrow next to the subject of the ticket to directly open the ticket in Zendesk, or click directly on the subject to see all ticket details, including both public and private comments.
View SuiteCRM Data in Zendesk Support and Chat
With Fanatically Zen, you can empower your Zendesk agents with all relevant customer data directly from SuiteCRM. Zendesk agents can view contact, account, and opportunity data related to the customer without delay, giving them ready-to-use insights within an email or a customer chat. Using the Professional or Ultimate versions, you can also display custom fields and modules (with a link to Accounts, Contacts, or Leads modules), such as support contract information, license keys, relevant support dates, or other specific fields needed for Zendesk agents to quickly assist customers.
Maybe you have support contract information, license keys, support dates and other custom fields specific to your business that the support agent needs to properly support your customers. With the Fanatically Zen integration, it's possible to have all of this immediately available in the correct context without any extra work from the support agent directly within Zendesk. No need for extra tabs open and fumbling around your CRM.
Ticket View: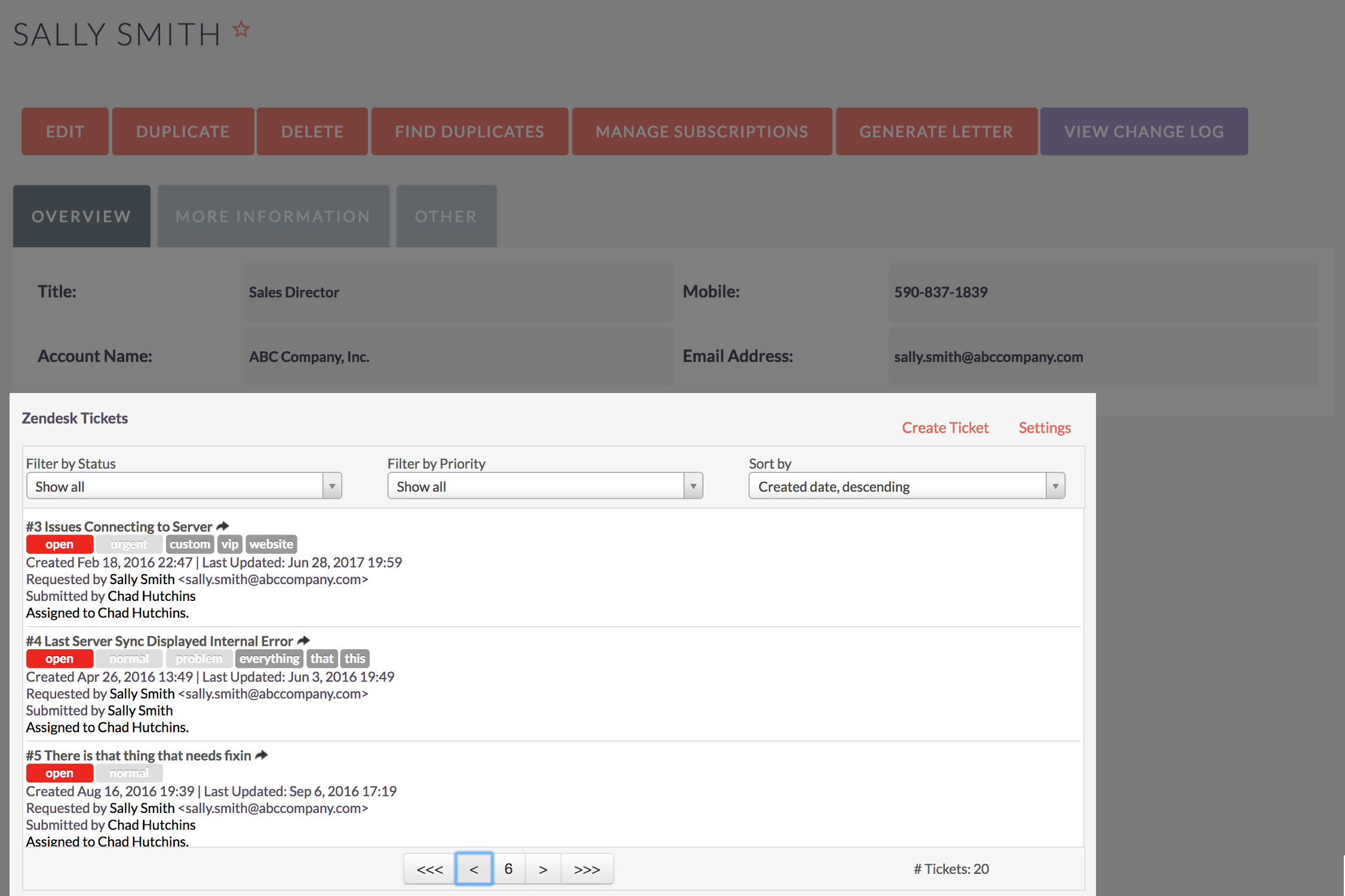 Chat View: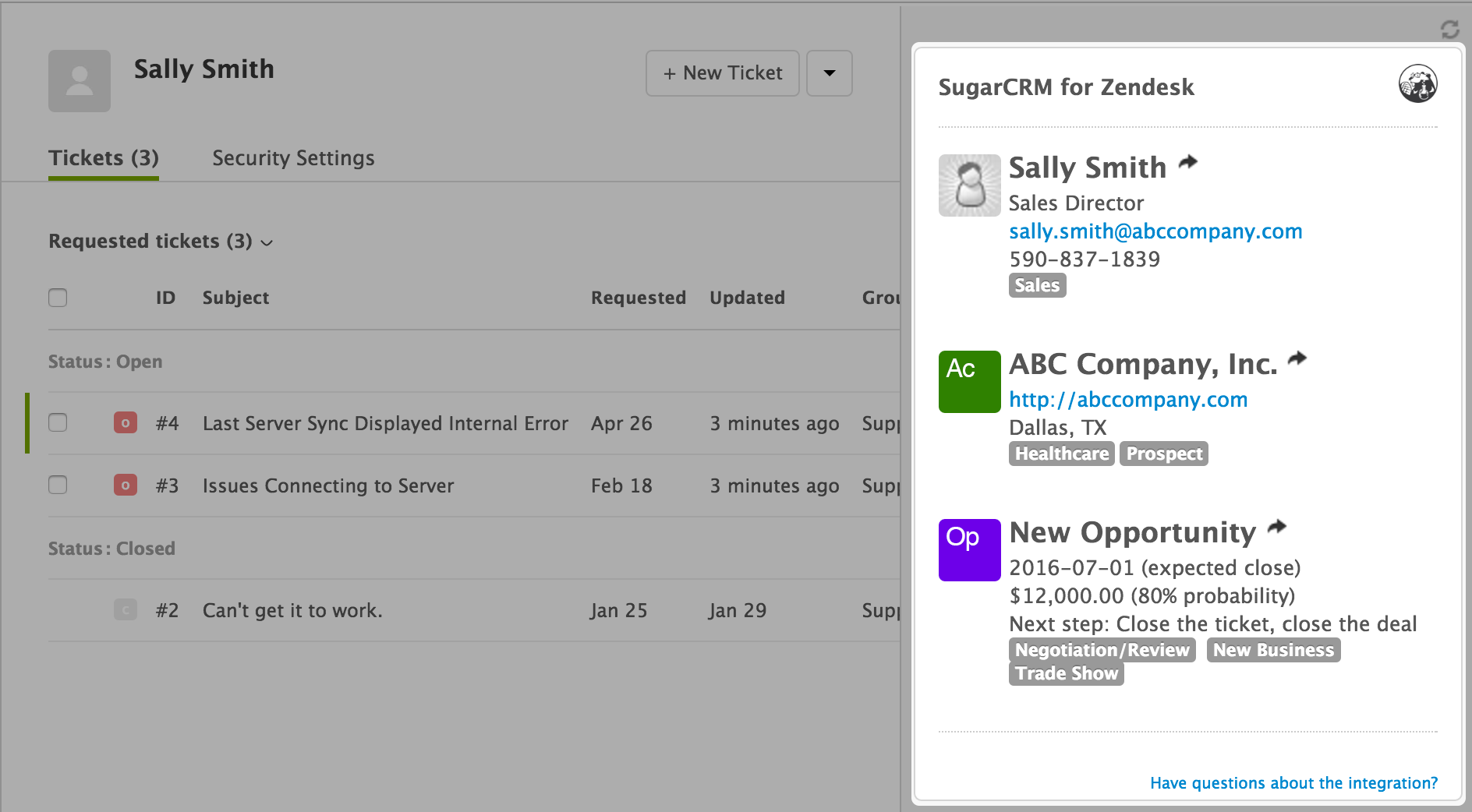 Sync Zendesk Tickets, Users and Organizations to SuiteCRM
When Zendesk tickets or live chats come in, would you like to create a contact or lead in your CRM? Do you have custom workflows in SuiteCRM that need to trigger when Zendesk tickets are created or updated? Or maybe you want to report on Zendesk tickets within SuiteCRM? Maybe you have a customization that relies on the SuiteCRM Cases module?
The Zendesk to SuiteCRM sync feature allows Zendesk ticket, user and organization data to easily flow into SuiteCRM when Zendesk tickets are created or updated. The process is very flexible and configurable when using our Ultimate version, so you can sync Zendesk tickets, users and organizations to any modules and fields (including custom modules and custom fields).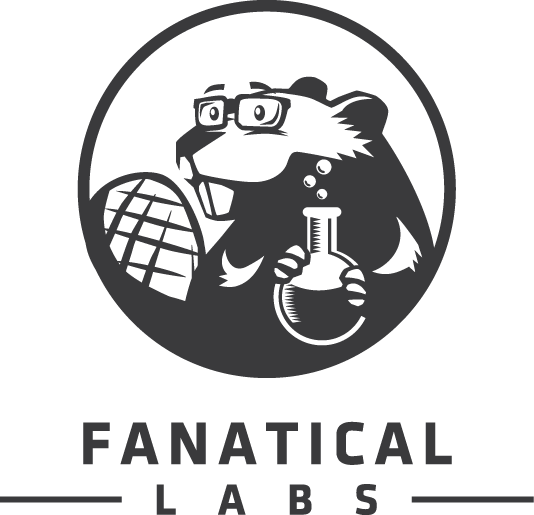 Our Trust Guarantee
We understand what it is like to be left high and dry by vendors. It is a central reason why we built this marketplace back in 2010 and then Fanatically Zen. To combat the risk of dealing with a bad vendor, we took several steps to protect you such as by giving you a full 30 day try-before-you-buy period. Learning from our own poor experiences with other vendors, we then set out to create Fanatically Zen for you and provide support based on our values. Look, we know this stuff is hard, but that is why we are here to help you. We want to see you succeed. We guarantee it.
Supports All Versions of SuiteCRM
Fanatically Zen was created (and will always be supported) by the experienced team at Fanatical Labs – the same developers that brought you SugarChimp.
It's compatible with:
SuiteCRM versions 7.0 and higher
SuiteCRM On Demand or Self Hosted
Safe and Secure
Fanatically Zen was built using the latest SuiteCRM and Zendesk APIs. It uses two-sided OAuth authentication method, so SuiteCRM and Zendesk can securely communicate with each other while giving you all the control to revoke access at any time.
Test the Full Solution, Completely Free
Click here to start your free 30-day trial. After going through the checkout process, you will be provided with the license key and download package needed to fully test the product. If you have any questions, please create a support case and we'll help you.
Why use Zendesk?
Zendesk is a platform that helps turn customer interactions into lasting relationships. – and many SuiteCRM users are discovering it's a better way to manage support. With Zendesk, your team can accept and work through chat messages, phone calls and emails all in one place.

Not using Zendesk yet? Start a trial below and then come back here to start a Fanatically Zen trial. You can always change your Zendesk plan later.

Pick Your Best-fit Plan
View our plans below and see what features are the right fit for your team.
The Ultimate edition is designed for teams who want to have complex workflows or want to customize the flow of Zendesk data into the CRM. This is commonly used by our larger B2C and B2B customers.
The Professional edition is designed for companies with a Sales team who only has access to the CRM and a Support team who only has access to Zendesk. This plan gives a complete view of your data whether you are working in your CRM or Zendesk.
The Basic edition is designed for companies with teams that have access to both SuiteCRM and Zendesk and only want to see basic CRM data in Zendesk and basic Zendesk Ticket data in the CRM. Learn more to see the full list of basic data available and learn more about configuring modules and fields in general.
Ultimate
Advanced Syncing
Sync Zendesk Ticket, User, Orgs to Suite
Customize what syncs to Suite
Conditional syncing to Suite
Sync Contacts to Zendesk
Customize Suite Dashlet View
View All Ticket Comments in Suite
Customize Zendesk App View
View custom modules and fields in Zendesk
View Zendesk Tickets In SuiteCRM
View SuiteCRM Data in Zendesk
Supports On Demand and Self Hosted
Outstanding support
Unlimited users
Free 30-day Trial
Professional
Improved Views
Sync Zendesk Ticket, User, Orgs to Suite
Customize what syncs to Suite
Conditional syncing to Suite
Sync Contacts to Zendesk
Customize Suite Dashlet View
View All Ticket Comments in Suite
Customize Zendesk App View
View custom modules and fields in Zendesk
View Zendesk Tickets In SuiteCRM
View SuiteCRM Data in Zendesk
Supports On Demand and Self Hosted
Outstanding support
Unlimited users
Free 30-day Trial
Basic
Basic View
Sync Zendesk Ticket, User, Orgs to Suite
Customize what syncs to Suite
Conditional syncing to Suite
Sync Contacts to Zendesk
Customize Suite Dashlet View
View All Ticket Comments in Suite
Customize Zendesk App View
View custom modules and fields in Zendesk
View Zendesk Tickets In SuiteCRM
View SuiteCRM Data in Zendesk
Supports On Demand and Self Hosted
Outstanding support
Unlimited users
Free 30-day Trial
Supported Versions
7.0.0 to 8.4.0