Further secure SuiteCRM by locking out login attempts from unapproved IP addresses. Define specific IP addresses that users can connect from and manage on a per-user basis or for a whole group of users.
IP Preventive
This addon will help you to give your SuiteCRM user or group of user acess from single IP or multiple IPs to SuiteCRM.
For example you have 3 types of users.
1) Employees 2) Managers 3) Admin
If you want to give access to your employee from your office ip only. Then create one profile, assign single or multiple IP's and select user in it.
If you want to give access to your manager from office ip and his home ip. Multiple IPs can be supplied with a comma(,) separator.
Users which are not selected in any profile will get access from anywhere.
In below image, one profile is there with name set1. This is suggest that test and test1 user will get access to SuiteCRM from 54.68.233.232,52.37.153.208 and 159.8.41.131 IPs.

Below message will show when you login from other IP.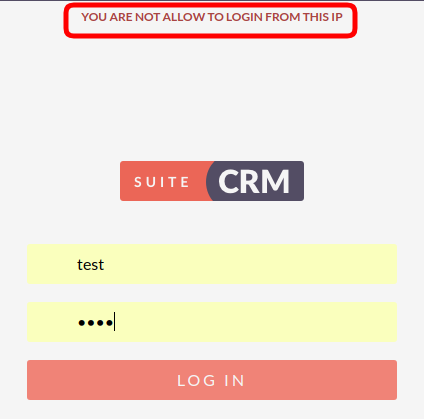 Supported Versions
7.0.0 to 8.4.2