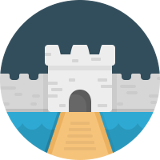 Control what your users can access and save time, money, and frustrations. Lock down sensitive data in SuiteCRM to specific groups or teams. Supports unlimited assigned users, unlimited group assignments to records, custom layouts for each group, login/sudo capabilities and much more.
#1853 - Created Role for Non-Admin to be Admin for User Module
Hi the sole purpose I wanted to try this module is to provide a non-admin user (for example ABC) admin privileges for User Module, so that ABC can create and update users as employees come and go.
I created the role and added Users/Security Groups/Roles "User Admin Only " under user role type. Added ABC to the role.
Users/Security Groups/Roles Access: Enabled User Role Type: : User Admin Only Create: All Delete: None Editt: All Export: None Import: None List: All Mass Update: None View: All
But when I login as ABC, I do no see any option to be able to create.
Supported Versions
7.6.2 to 7.12.6