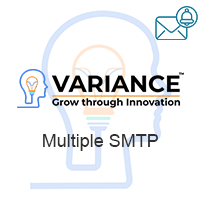 Want each user to have their own outgoing email server configuration? This add-on is perfect for that. Each user can setup their own outgoing server.
#3020 - OAuth2-Gmail Support
Closed
Feature
created by screenflex

Verified Purchase

2 years ago
I was wondering if there was a plan to add OAuth2 keys to the multi-smtp plugin?
Currently, Google Requires "Less Secure Apps" to be enabled in order to use this plugin, or an app password when using two-factor. As of February 2021, this feature will be disabled, and creating an oauth2 key will be the only way to authenticate smtp-apps. Consequently, this plugin will most likely no longer work for GSuite Customers.
I have already discussed this with Sales Agility and they have assured me a solution is in the works, although I have not heard of their progress since we last spoke.
I'm not sure if Variance InfoTech is planning to implement their own solution, or use Sales Agility's, but either way some solution is required for us to continue to use the multi-smtp plugin beyond 2020.
Supported Versions
7.9.3 to 8.2.2
Most Recent Love from Users
tgamez