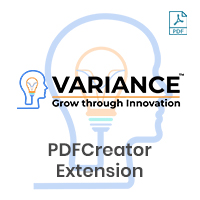 PDF Creator for SuiteCRM is a powerful add-on for generating business PDFs, capturing electronic signatures, and automating related processes. Quickly create proposals, contracts, cases, quotes, invoices and other necessary docs while working in your CRM.
Introduction
Introduction
PDFCreator User's Guide has been developed to assist management, system admin and users. PDFCreator extension allows you to Generate PDF of Created Templates from Configuration Page of PDF Creator Module.
Features:
PDFCreator allows you to Enable/Disable PDFCreator Extension feature from the Configuration Page.
Able to Create New Templates for particular modules from PDFCreator Configuration.
Able to Copy Existing Templates for particular modules from PDFCreator Configuration
PDFCreator contains the Default Template Gallery for Invoices/Quotes Module using which you can create templates.
Display the PDFCreator Button on Record Detail View of the Activated Module for PDFCreator.
Allow users to export the PDF using PDFCreator Template by clicking on PDFCreator Button from Record Detail View.
Allow users to sign the Document before Sending the Email to Contacts/Prospect or Export PDF with Signature.
Once the users sign the Document, it'll be attached against a particular module record.
PDFCreator contains properties of the PDF like PDF Size, Orientation, Password Protected, Watermark, etc.
Able to add Product block with Group and without Group of Line Items for Inventory Modules(Quotes/Invoice).
Able to share PDF Creator Templates to particular User/Group Users from the Configuration Page.
PDFCreator Extension adds a new Action as "Send Email using PDFCreator" in Workflow.
PDFCreator extension allows you to send Email of all types of Templates to users through the Workflow which you have configured during the PDF Creator Configuration.
Active/Inactive Status of PDFCreator Configuration to apply Configuration for Selected Primary Module.
Getting started
Supported Versions
7.7.0 to 7.13.3