---
Highlevel Overview
Brainvire's Scoreboard add-on for SuiteCRM allows users to manage interactions with customers throughout the sales conversion funnel. It enables clients to use data analysis of customers' history to improve business relationships. This solution is mainly aimed at streamlining the entire customer relationship management process by focusing on customer retention and driving sales growth.
Features of Scoreboard
The user interface is simple and easy to understand
Settings on the admin side to enable or disable this feature in any module
Scoreboard basically works on List View and on the Detail View
It covers all the default modules of SuiteCRM (Leads, Opportunities, Quotes, Invoices, Cases, Tasks, Calls, Meetings)
The major advantage of this plugin is that it works with any custom field option
Users can select an option from the dropdown and can filter the records on the List View
Users can update the status of the record using the scoreboard bar on the top of the Detail View
Sales reps can easily filter the data from the List View
In the Detail View, sales reps can easily identify the status of that particular record
From the Detail View, users can update the status of the related field
How it Works
Scoreboard assists sales teams to track important data and plan their communication according to the stage in which the module's records are currently in. You can directly update the data from the Detail View of the selected SuiteCRM modules.
Case Module List View:
Once you enable the module from the Admin panel, you will get a dropdown option on the top right corner of a List View with all enum and dynamic enum datatype field list. Default and custom, both fields will be displayed in the dropdown. You can select any one option from the dropdown. The selected option's filter will be applied on List View.

The screenshot below shows the selected status value. All status of the module will be displayed with the count of records under each status. User can click on any status tab and its filter will be applied automatically.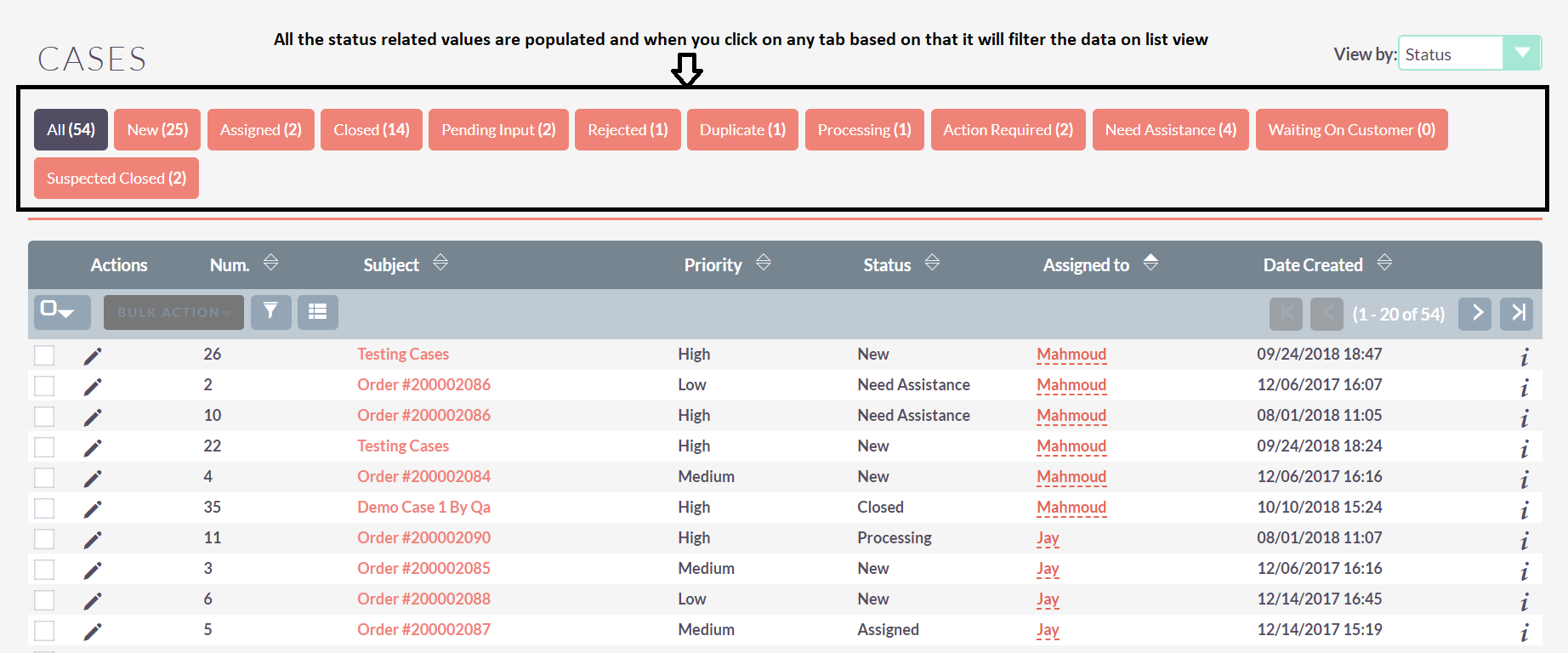 Case Module Detail View:
To learn more about this solution, go to Scoreboard or search for "filter customers."