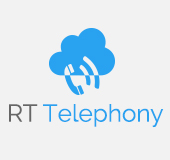 SuiteCRM Plugin that bridges the gap between Twilio & SuiteCRM. To establish connection with your customers, A state-of-the-art Telephony solution for Voice (Inbound and Outbound) and SMS to run your business more efficiently and cost effectively. Works great with both VOIP and Land Lines.
Incredible Telephony Integration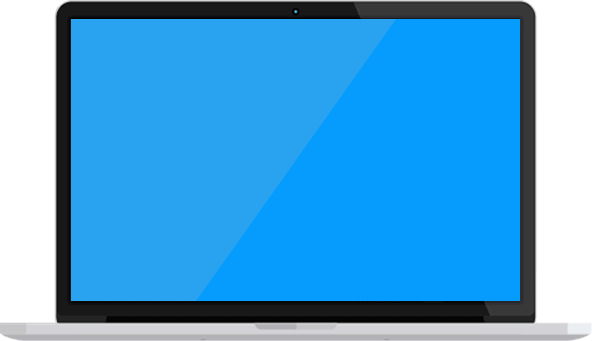 Effective communication is key for any business looking to either minimize support call loads or maximize potential sales. This unique solution provides you with the tools to do just that. Not only is there a deep telephony integration with SuiteCRM, you also get additional features not found in a conventional telephone system. Features like SMS Conversations, Click to Call, voice recordings attached to your CRM records, and more. It also works great with SuiteCRM.
Only SuiteCRM and RT Telephony integration for On-Demand hosting
That's right, we've found a way to allow any SuiteCRM install to benefit from these features.
Screen Pops for Inbound Calls
If someone calls on the number; this integration checks for an available SuiteCRM user. The call is then displayed in a popup to that end user and if the contact exists in SuiteCRM the contact's information is also displayed in the popup. After the call is completed all of the call's information is stored in SuiteCRM along with a recording of the call.
Click to Call
On any "Phone" field from any module (custom or default), including Leads, Contacts, and Accounts, click on the phone number to initiate a call. Based on your preference, the call can be made via your computer using the mic and speakers or it can be made by calling your phone number and then the recipient. Once the call is finished the call will be recording, along with a voice recording, in SuiteCRM. Yes, you can also use land lines or mobile phones in addition to your computer.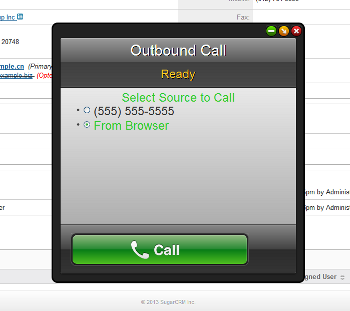 Optionally utilize phone number extensions. When an extension is dialed the IVR will handle connecting the call or presenting a "not available" message to the caller depending on if the user is logged in or not.
Build your own phone directory. Allow customers to search for the right person to connect with by enabling this option.
SMS Conversations
RT Telephony is not a one trick pony. In addition to the verbal communication, it supports textual conversation, SMS Campaigns and predefined SMS templates. SMS conversations can be started with any Contact, Lead, Account as long as there is a Phone number associated with the person.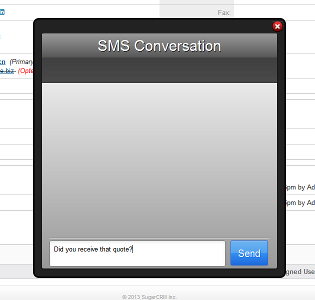 Scheduled SMS
You can send an SMS instantly or schedule it to be trigger at a specific time while saving the communication history. To initiate SMS conversation through SuiteCRM, all you require is RT Telephony integration and the recipient's number.
More about RT Telephony on its website
You can now find all the RT Telephony content under a single website that contains all the detailed features and functionalities of RT Telephony. Click here to see the website
SuiteCRM Compatibility
SuiteCRM is the free, supercharged and open source alternative to SugarCRM. To keep up with the in-demand SuiteCRM market, we have worked on making our plugins compatible with the this CRM. RT Telephony is compatible with all versions of SuiteCRM.
Free 30 days Trial
What are you waiting for? Save your time and effort and start RT Telephony trial today! Click on the View Pricing button below and get started.
Contact Us
We provide instant support for RT Telephony. You can contact us at support@rolustech.com for your queries. Visit our Official website to know more about us.
Download RT Telephony Documents
Click the documentation tab on this page to download the Installation and User Guide.
Support
Please create a ticket from the Support tab or drop an email at support@rolustech.com for assistance.
Supported Versions
7.0.0 to 7.11.21
Most Recent Love from Users
smervin