Scalable, Enterprise-Class solution for integrating SuiteCRM with Exchange / Office 365. Synchronize contacts, calendars and tasks. Set rules for auto-archiving of incoming/outgoing emails. Combine (optional) with an Exchange / Office 365 add-on that presents an Email Side-Panel in Outlook and allows users to view, create and edit CRM records from within Outlook.
Server-Side Integration. No Desktop Software to Deploy.
Supports on-premise or hosted Exchange and Office 365 Exchange online.
Runs on an on-premise server.
Corporate level rules for auto-email archiving
Centralized Administration. Easy to Install & Configure
Support both Windows and Mac users
Synchronize CRM Data with Users' Exchange Mailboxes
Full bi-directional synchronization of contacts, calendars & tasks
Rule-based automatic archive of inbound & outbound emails
Optional sync based on users' categories
Configurable Exchange folders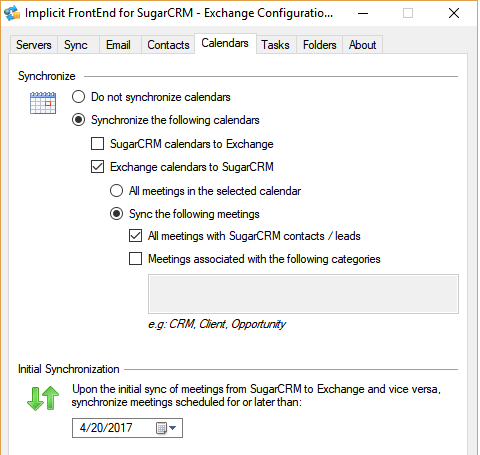 Rule-Based Email Archiving Engine
Create rules to archive inbound and outbound emails
Rules based on: contacts, leads, accounts, email addresses, words/phrases in subject, case templates
Automatically archive to related CRM records
Automatically archive emails to cases records
Destination records can be determined at run-time based on the specific emails or specified in the rule.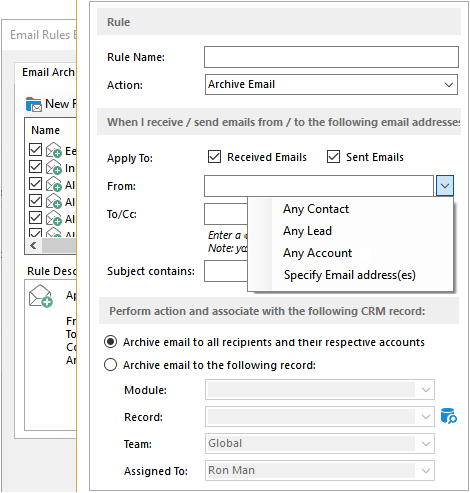 Email Side-Panel in Outlook
Get the best of both worlds by combining the Exchange connector with FrontEnd Side-Panel
Server-side integration only; FrontEnd Side-Panel is deployed via Exchange to all users; No software installed on users desktops
Configure the Exchange connector to sync contacts & calendar and auto-archive email messages and utilize the Side-Panel to enable users to interact with the CRM
Supports on-premise Exchange (2013 and higher) and office 365
FrontEnd Side-Panel allows users to:

Instantly view CRM data upon receiving emails from customers
View, update or create CRM records: opportunities, cases, meetings etc.
Manually archive selected emails
Create contact, lead or account from the email
Create a quick note for any related CRM record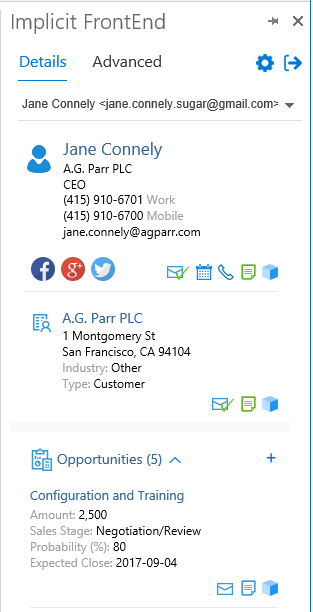 Enterprise-Class Scalable Solution
For deployment in house or as a hosted solution (e.g. AWS)
Integrates with Microsoft Exchange / Office 365
Scalable from a single server to a server cluster
High Performance; handles large-scale email traffic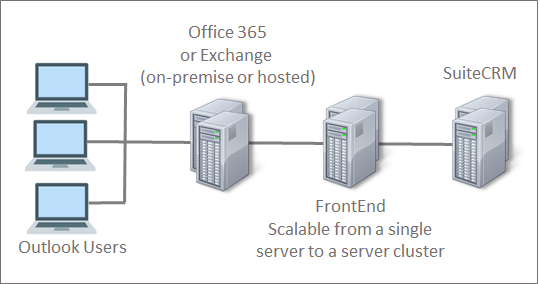 Please note: This product requires a license with a minimum of 5 users.
Supported Versions
7.0.0 to 8.4.0