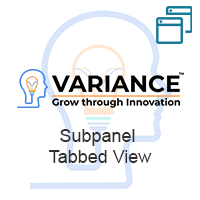 The Subpanel Tabbed View add-on allows users to see subpanels in a convenient, tabbed view, plus the number of associated records each subpanel holds. This simple, effective solution prevents users from wasting time by blindly clicking on subpanels to view any related information per main record in SuiteCRM.
Create Case
Support Cases
Author
Status
Type
#2628 No Tab Function in Projects Module -

Noticed that when in a project the tabbed feature does not work. I also confirmed this in the demo s

ghansen

In Progress

Bug?
Supported Versions
7.0.0 to 7.11.13
Most Recent Love from Users
ghansen