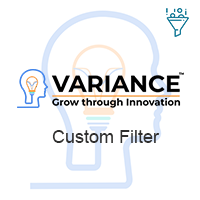 The Custom Filter add-on for SuiteCRM allows you to filter and search for desired records from the total list of records, plus save and display the Custom Filter search separately in the module. Create complex filters to find specific records to assign to different sales reps and much more.
#2783 - IMPORTANT FUNCTIOLITY MISSING FOR A PURCHSE DECISION
HI,
THERE SHOULD BE TWO IMPORTANT FUNCTIONALITY SHOULD BE ADDED TO MAKE IT USEFUL AND WE WILL BUY IT FOR ONE OF CLIENT IF YOU INCORPORATE THE FOLLOWING ONE:
THERE SHOULD BE FACILITY TO ATTACH THIS ROLES , IDEALLY MULTIPLE ROLES AS YOU HAVE GIVEN PUBIC FACILITY.
THIS FACILITATES TO DEFINE FILTERS FOR ALL TYPE OF USERS BY ADMIN
CUSTOMIZED FIELDS CHOSEN FACILITY FOR LISTS FOR EVERY CUSTOM FILTER..
PLEASE UPDATE ON US
REGARDS
B.C.CHECHANI
8875627151
Supported Versions
7.0.0 to 7.12.1