---
Communicate more efficiently within your team and across departments to problem solve and keep everything moving along smoothly. The SuiteCRM Collaboration add-on is a one-stop solution for sales opportunities, projects, support and other collective teamwork needs.
Highlevel Overview
Developed by Urdhva Tech, the Collaboration add-on provides a secure place for communication, where users can get notified and discuss any issues surrounding Leads and Accounts within SuiteCRM. When customer issues come up, you can ensure smooth communication between the right teams to quickly solve problems. This helpful add-on provides many benefits to your SuiteCRM platform, such as communication, transparency, employee engagement and reliability.
Key Features
Enable your teams to communicate effortlessly within any SuiteCRM record. Collaboration offers a discussion area similar to social platforms, but it's built for the workplace.
Collaborate right inside records: invite team members for discussion, help, or more information by mentioning them directly in the record's collaboration panel
Drive productivity: connect, engage and motivate employees to work efficiently regardless of their role or location
Get real-time notifications emails: inform teams or individuals of updates or recent comments via email
Share knowledge, files and data: connect with experts of the organization regardless of their role or location
Collaboration Hub: your one-stop solution for sales opportunities collaboration, project collaboration, support collaboration, etc.
Designed with care: supports collaboration needs of your custom modules
Create a better range of communication across departments to gain the necessary information and clarification that helps keep sales moving forward.
In collaboration comments, users can mention any other user in the system. Start typing '@' followed by the user name, then the name will auto-populate.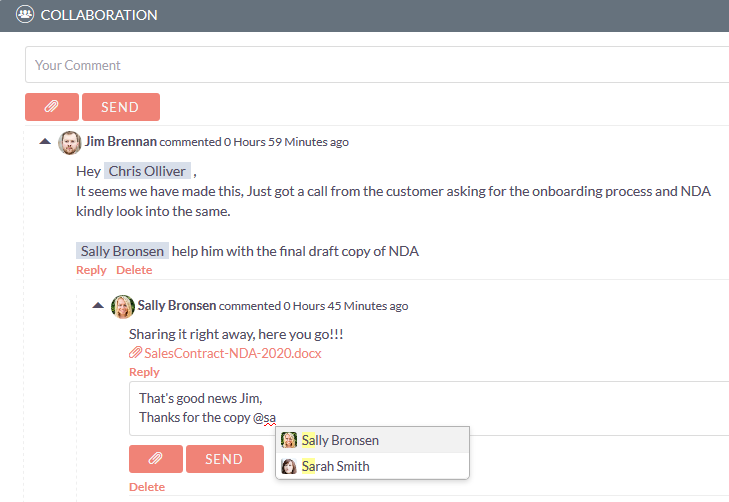 Any user with rights to edit the record of the collaboration module will have an option to reply and upload any documents.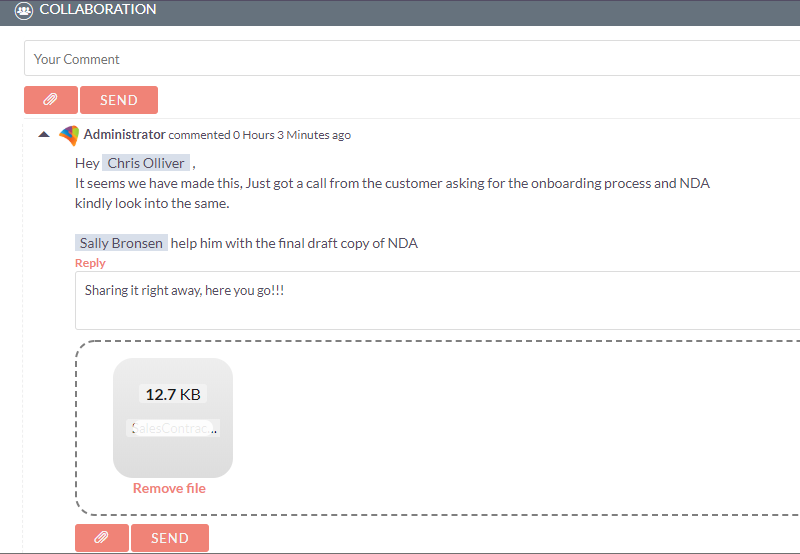 To learn more about this solution, go to Collaboration or search for "collaborate"