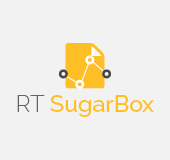 Share, access and collaborate on all your Box content within SuiteCRM with RT SugarBox! This SuiteCRM plugin makes content management and collaboration possible for your users.
Making Content Management Easier
SuiteBox is a data syncing plugin between SuiteCRM and Box platforms. It eliminates the need to send updated content back and forth with revisions. 2-way sync ensures that you can add content on either platform and rest assured that it will be available for use in the other one.
Bi-directional Sync
Access and manage Box content directly from within Suite, ensuring that your sales teams have the latest content to share with leads and customers.
Easy Box Integration
When you install SuiteBox, you will be asked to allow access to your Box account. Simply click Authorize, and you are set with the synchronization. No more hassle.
Organized Sync
Each document you link with an account, contact, or an opportunity will be synced to their respective folders in the Box hierarchy. No need to worry about organizing your files because SuiteBox does it for you.
30-day Trial
You can try RT SuiteBox for Free for upto 30 days. Click on Try it Now to get started.
Contact Us
If you still have questions, we are more than happy to answer them. Reach out to us at support@rolustech.com, or create a case/question for us, and we will get back to you. To learn more about our company and other Suite solutions we offer, please visit our website.
Supported Versions
7.0.0 to 8.4.0