 Intercom is a messaging platform that helps businesses connect with consumers. The platform includes website live chat, customer engagement, knowledge base, and help desk all in one and integrated with SuiteCRM.
What is Intercom?
The way businesses talk to people online is broken. Intercom is fixing it.
Intercom is the first to bring messaging products for sales, marketing & customer service to one platform, helping businesses avoid the stiff, spammy status quo and have real conversations that build real connections. Designed to feel like the messaging apps you use every day, Intercom lets you talk to consumers almost anywhere: inside your app, on your website, across social media and via email.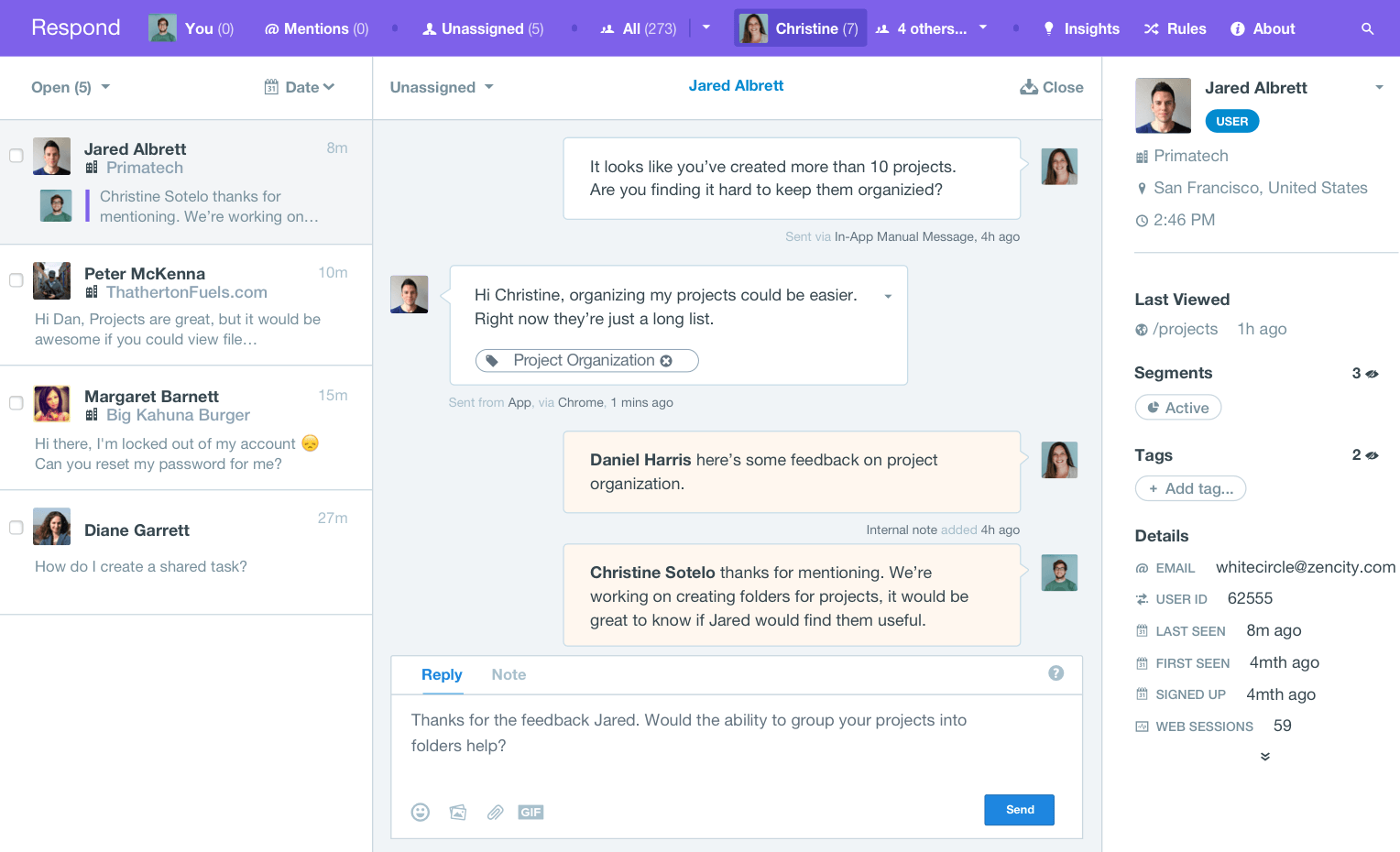 We Use It Ourselves
If you have ever interacted with the chat in the lower right area on the SuiteCRM Store or received an Early Access email announcement about a new add-on then you have used Intercom. We love Intercom. It's easy to use for both us and our customers & prospects. People can leave a message and pick up the conversation however they would like. We can set expectations on how soon we can answer. Intercom can even suggest documentation while someone is waiting.
What I personally love is the ability to sync custom data over to Intercom in order to not only quickly see a full picture of a visitor, but also to segment and send direct messages via chat or email more effectively.
To learn more about Intercom visit https://www.intercom.com/. This integration requires you to already be using Intercom.
Working Within SuiteCRM
What we love about this integration is that we can lookup a contact, account, lead, or target and quickly see all conversations in the Fanatical Intercom dashlet on the right. This will let us see both chat conversations we have had and any direct email messages sent to them, including marketing emails for certain products.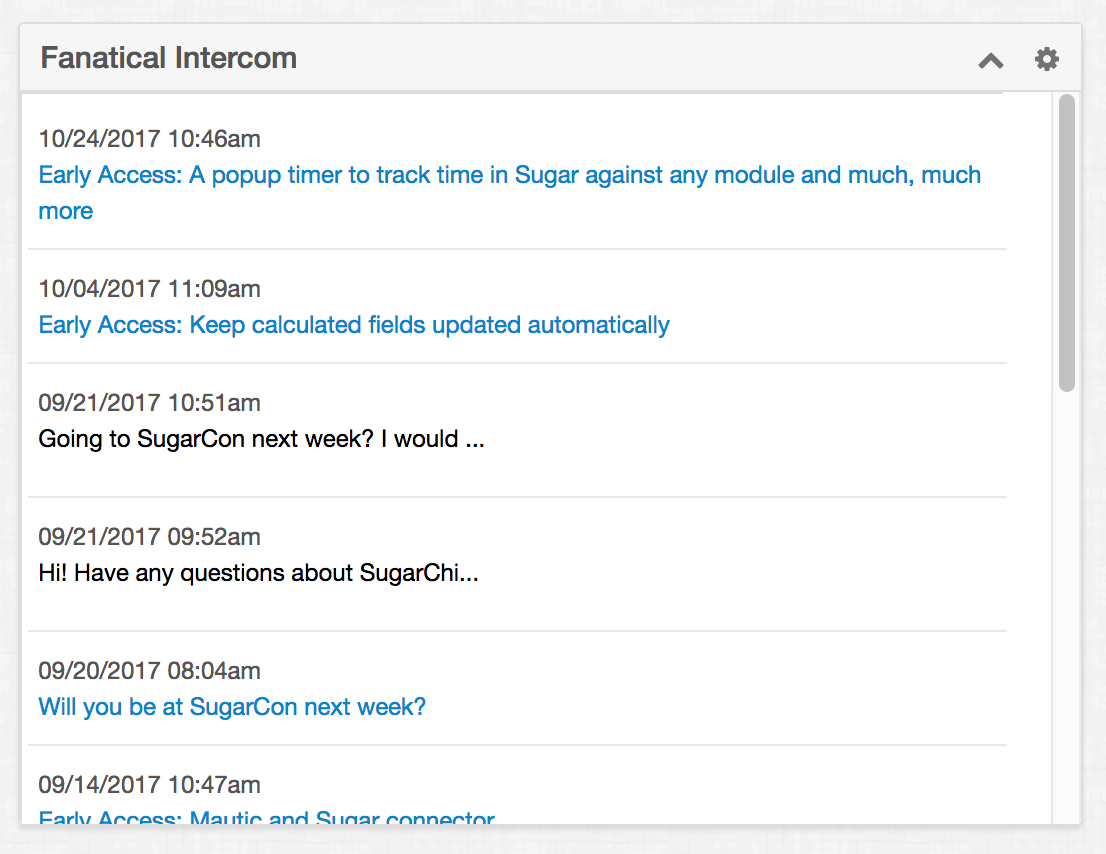 If we need more background on a chat conversation we can drill down to see what we discussed: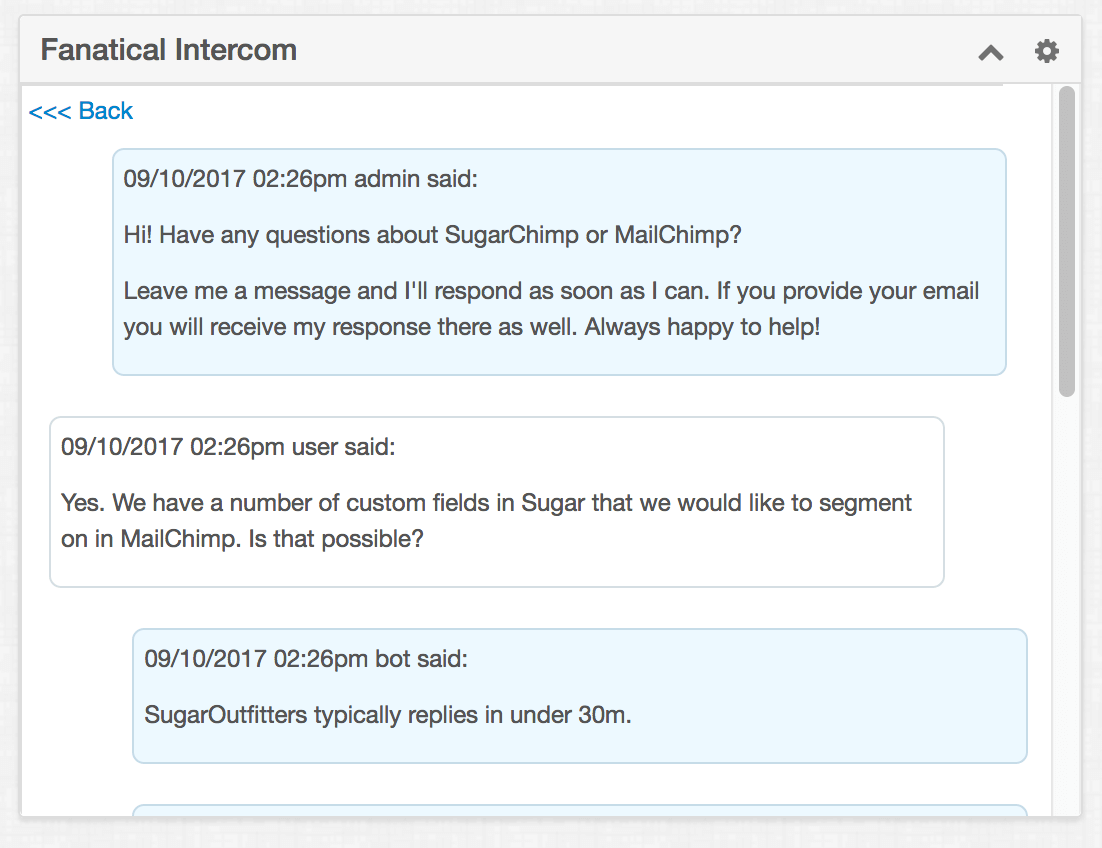 Fully Supports SuiteCRM
We support all SuiteCRM versions.
Safe & Secure
This integration was built using the latest SuiteCRM and Intercom APIs. OAuth is used to authentication your Intercom account with SuiteCRM so they can securely communicate with each other while giving you all the control to revoke access at any time.
Try the Full Solution for Free
Click here to start your free trial. You can use the full solution for a full 30-days. After going through the checkout process you will be provided the license key and download needed to try the product. If you have any questions at all create a support case and we'll help you.
Supported Versions
7.0.0 to 7.11.1