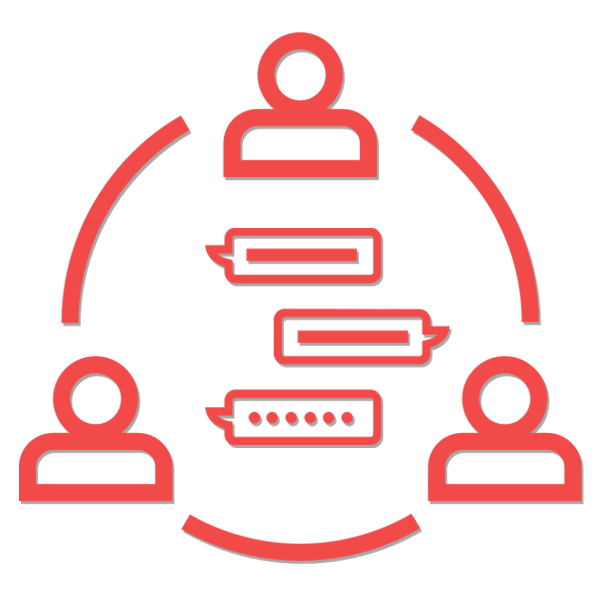 Collaborate more efficiently with employees within and across teams to get things done on time. The SuiteCRM Collaboration add-on is a one-stop solution for sales opportunities, projects, support and other collective teamwork needs. It's designed to support your custom modules as well.
Collaboration for SuiteCRM makes working together easy.
The goals of team collaboration include: completing projects efficiently and collectively while giving team members a sense of accomplishment without any gaps in communication. While there are many ways to improve team collaboration, it's not always realistic to physically meet one-on-one with every teammate. From presentations, customer meetings and deadlines to family needs outside of work, your employees have many priorities to manage.
Our Collaboration add-on provides a secure place for communication, where users can get notified and discuss any issues surrounding Leads and Accounts within SuiteCRM. When customer issues come up, you can ensure smooth communication between the right teams to quickly solve problems. This helpful add-on provides many benefits to your SuiteCRM platform, such as communication, transparency, employee engagement and reliability.
Enable your teams to communicate effortlessly within any SuiteCRM record. The Collaboration add-on offers a discussion area similar to social platforms, but it's built for the workplace.
Collaborate right inside records: invite team members for discussion, help, or more information by mentioning them directly in the record's collaboration panel
Drive productivity: connect, engage and motivate employees to work efficiently regardless of their role or location
Get real-time notifications emails: inform teams or individuals of updates or recent comments via email
Get real-time SuiteCRM alert notification: inform teams or individuals of updates or recent comments via suitecrm alert notification
Share knowledge, files and data: connect with experts of the organization regardless of their role or location
Collaboration Hub: your one-stop solution for sales opportunities collaboration, project collaboration, support collaboration, etc.
Designed with care: supports collaboration needs of your custom modules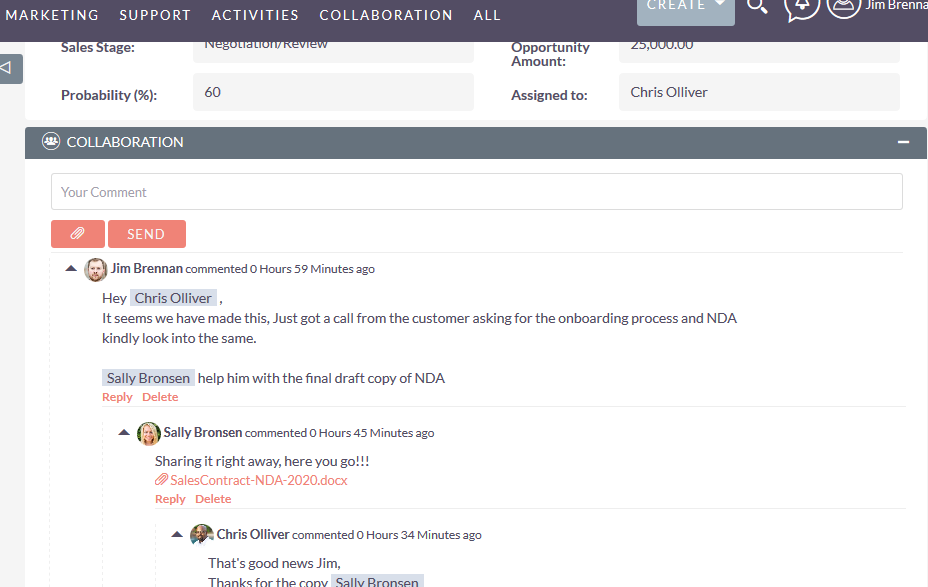 Email and SuiteCRM Alert Notification                    
Collaboration configuration gives you the choice of notification whether you want to have email notification or default SuiteCRM alert notification with multiple choice of subscription.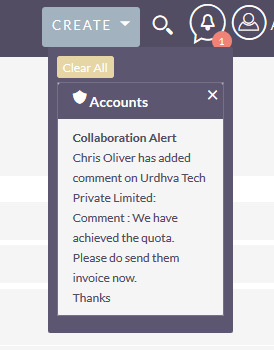 Communication and Transparency
Create a better range of communication across departments to gain the necessary information and clarification that helps keep sales moving forward. Transparency helps your business set clear goals with participants across the departments, keeping everyone accountable.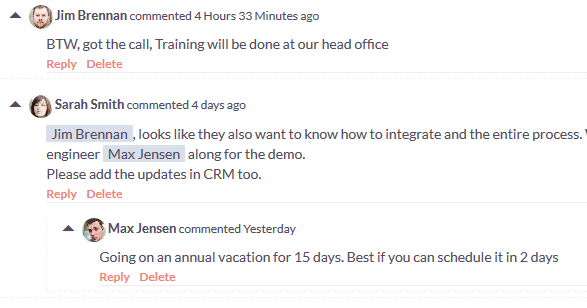 Engagement and Reliability
Keeping each member of the team engaged and interested in collaborating will make the project more efficient overall, plus their valued input makes it more effective. Once each member is assigned their goals, they are accountable for completing the task and can reach out to key teammates for help as needed.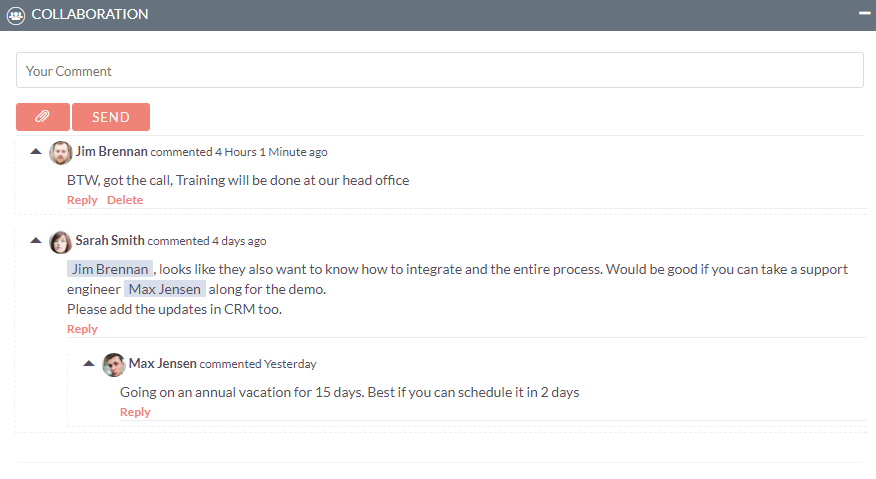 User Mentions
In collaboration comments, users can mention any other user in the system. Start typing '@' followed by the user name, then the name will auto-populate. Once you select the right name, it will appear in a gray bar. Admins can choose the email notification option, so any users mentioned in conversations will receive automatic email notifications.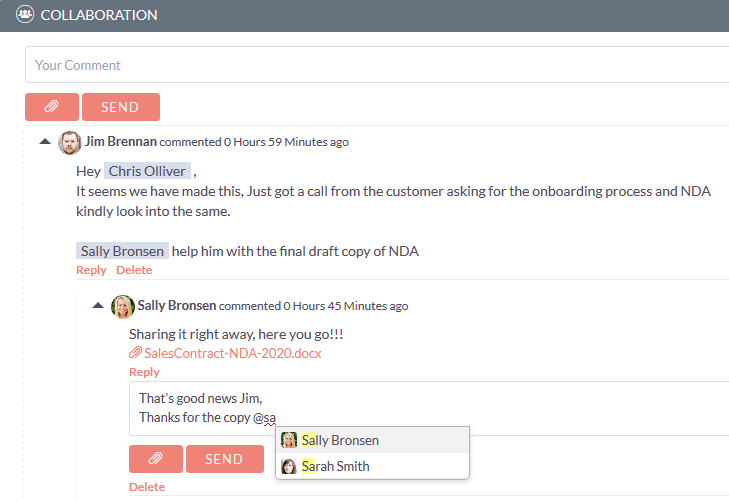 Add Comments and Upload Documents
Any user with rights to edit the record of the collaboration module will have an option to reply and upload any documents. Simply click on the paper clip icon and it will open up a new window to select and upload multiple documents at once.
Note: For non-admin users, the delete icon will only be available to the owner of the comments. For admin users, it will be available for any comments.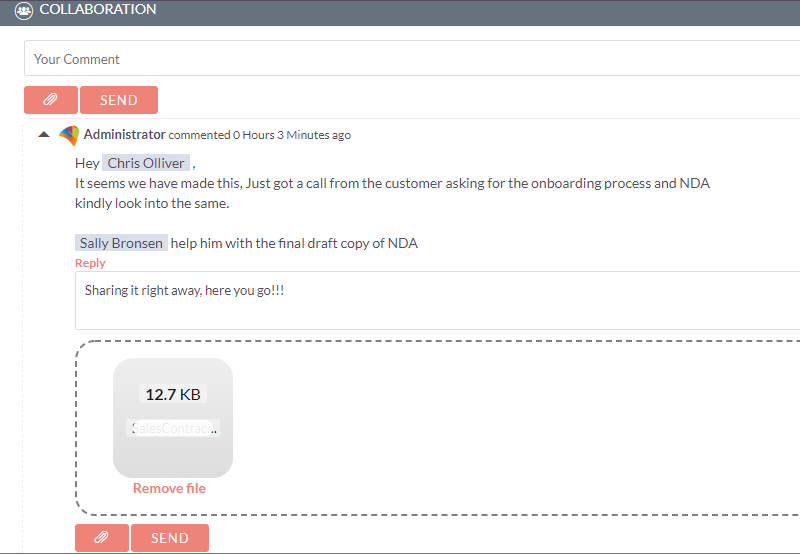 Have Questions?
We are here to help, just let us know how.
About Urdhva Tech
Urdhva Tech is a leading provider of SuiteCRM consulting, implementation, training and customization services located in Ahmedabad, Gujarat India. We continuously endeavor to deliver world-class SuiteCRM development services that help develop a competitive advantage for your business. We have amongst us, some of the best SuiteCRM developers having sole experience of 10+ years on SugarCRM, who can help you in streamlining business processes and reducing operational overheads. Our services are not only cost-effective but also best in terms of quality.
Supported Versions
7.0.0 to 7.13.1