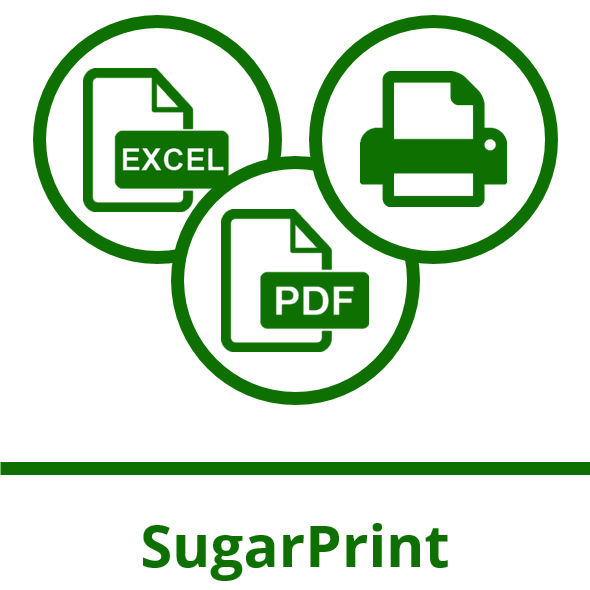 SugarPrint enables printing to PDF / XLS export of any: List view, Detail view and Calendar view in SuiteCRM Community Edition. SugarPrint makes exporting basic or advanced Search Results to PDF or Excel a one-click process.
Create Case
Support Cases
Author
Status
Type
#3330 Fail Plugin DetailView and ListView -

List view does not work, it does not apply filters. No button is displayed in detail view. Sui

informatica2

Open

Bug?

#2319 Also no buttons in Detailview -

Hi, I bought and installed sugarPrint on suite 7.11.8. The report button on listview is available a

jola

Open

Bug?

#2054 PDF button is not showing up in detail view -

I am using Version 7.11.5

novitascg

Open

Bug?

#1273 suitecrm leads: field list not ok, column headers and data mismatch -

SuiteCRM 7.8.18, SugarPrint 1.4 we want to export a lead list view to excel or pdf and made some de

info51

Open

Bug?

#1272 saving report definition fails -

SuiteCRM 7.8.18, SugarPrint 1.4 I want wo save a report definition, but this doesn't work. I can no

info51

Closed

Bug?

#1267 Translations: are other languages available -

We would be happy if this add on will be in german.

info51

Open

Feature

#1266 Using SugarPrint for cron jobs -

can I use SugarPrint for reporting with cronjobs ? I want to use a listview with filtered leads to s

info51

Open

General Question

#1183 7.10/Suite P Buttons are missing -

Attempted upgrade from 7.8.X to 7.10.5 and the SugarPrint buttons are missing from my Detail Views.

cmultari

Open

Bug?

#1041 Export Excel Problematic on DetailView -

hi, installed the version 1.4 on SuiteCrm Version 7.9.10, I've 2 problems: 1. Export excel very

crmsdsdatamark

Open

Feature

#696 Alignment and missing fields -

Running on the latest LTS version of suitecrm 7.8.7.

EWS

Open

Bug?

#666 Get Excel Export direkt -

Hello, I would like to export everytime the same settings. Is it possible to create a php file whic

marco1

Open

Feature

#642 Report XLS/PDF Exporting -

When exporting PDF or EXCEL from a report, the result is a misformatted file. ![Schermata 2017-09

mininistefano

Open

Bug?

#561 SugarPrint doesn't work on leads -

Hi, I just installed the version 1.1391 of SugarPrint, but the latter does not return any results o

contact

Open

Bug?

#529 Exporting to Excel not working -

Hi! We' ve purchased this extension and we have the following problem: When we select more fields in

gustavonesa

Open

Bug?

#354 SugarPrint buttons -

Running Suitecrm 7.8.3 Fresh install of SugarPrint and after clicking Report button the popup only

dah

Open

Bug?

#339 I would like to try again to get this working -

When I purchased this several months ago, shortly after my fields were not being captured properly i

tmartin

Open

Installation

#245 Buttons don't show names -

![Screen Shot 2017-03-05 at 22.42.00.png](https://store.suitecrm.com/assets/img/support/sugarprint/5

Andreas Lotz

Open

Bug?

#244 Change color of Buttons -

Can the color of the buttons be changed, so that they would blend in better with my theme..?

Andreas Lotz

Open

General Question

#199 Stuck at "work in progress" -

Hi, Whatever the size of the Excel report I try to generate, the programs remain stuck (usually

y9zze9ccmy0wbtwqe4

Open

Bug?

#183 Alignment -

I installed update and alignment of reports is off, some fields are not showing up even though they

tmartin

Open

Bug?

#114 Hi, i've installed on SUITE CRM 7.7.6 and i cannot get buttons -

Hi, i attach some screenshots: 1.- Created report on LIST of CLAIMS (RECLAMACIONES in SPANISH)

ivan

Open

Bug?
Supported Versions
7.0.0 to 7.11.18