Official SuiteCRM Outlook Plugin v4 has arrived - A complete plugin rebuild developed and maintained by SuiteCRM developers entirely from scratch, the addon retains previous functionality while massively improves performance, reliability and stability!
#2610 - Sync error, referring to email from 2.3.2020
we just installed the SUITE CRM Outlook plugin and did a quick test run but receive only errors. We first tried to sync the calendar, but receive errors that the date format is not correct, plus a couple of other errors. See screenshot for the bug alert and the log file.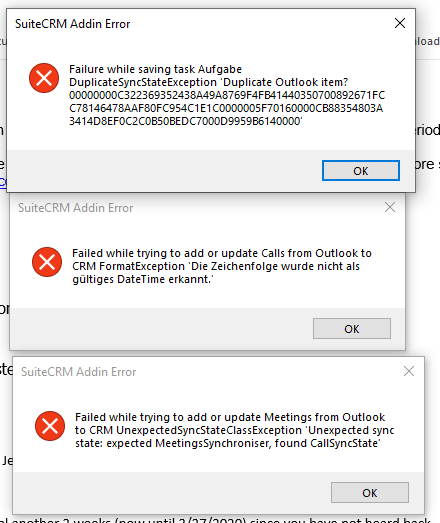 SuiteCRM Outlook Add-In v3.0.22.0 in Outlook version 16.0.0.12430
SUITE CRM Version 7.10.16 Sugar Version 6.5.25 (Build 344)
Supported Versions
7.10.10 to 7.11.18