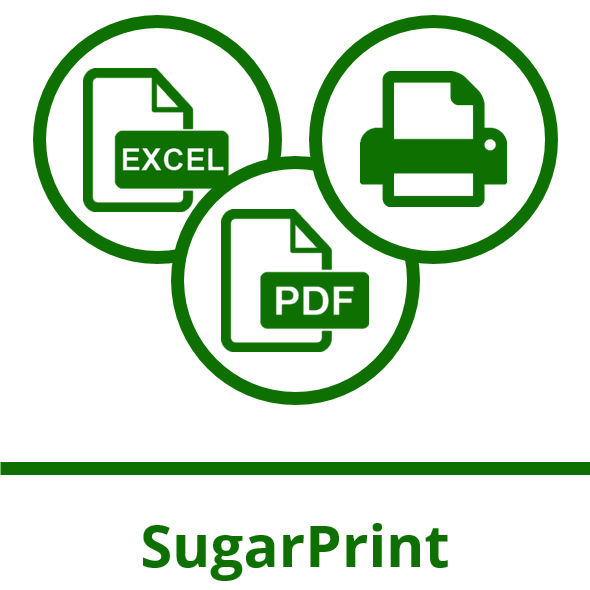 SugarPrint enables printing to PDF / XLS export of any: List view, Detail view and Calendar view in SuiteCRM Community Edition. SugarPrint makes exporting basic or advanced Search Results to PDF or Excel a one-click process.
SugarPrint: The One-Click Reporting Tool for SuiteCRM and SugarCRM
Why SugarPrint?
Our regular users of SuiteCRM frequently ask us to print or export the information from various modules.
They filters records on any modules and would then have the results printed in PDF or exported to Excel format.
They want to make selections, groupings, calculations on that results
It needs a reporting module? Not always.
Quite often calculations are very simple and the data are in front of their eyes and do not want to repeat the same questions in a reporting module: they have no time to lose!
We made SugarPrint to respond to these users. To your users!
Features
• Print PDF (1 click for printing all pages) of any SuiteCRM ListView
• Print PDF of detail and subpanels of any SuiteCRM Detailview
• Print Calendars PDF of SuiteCRM
• Crosstab reports NEW!!!
• Reporting with DHTML Grids with subtotals and nested group by
• Ability to add extra modules fields are not present in ListView
• Sorting columns in the Report PDF
• Group by with multiple subtotals and grand totals
• Reports with calculations: sum, average, count
• Export to Excel (not csv) of the records of the ListView
• Export to Excel (not csv) of Detailview: details + subpanels (one for each sheet)
• Security in the printing of records: print only records that the user can view
• Compatible with SuiteCRM ACLs and Security Suite
• Pie charts, bar charts, histograms from each ListView
• Save reports as public report or private report
Report types
In the current version of SugarPrint the following types of reports are provided:
• Report: columnar report with the possibility of grouping totals and subtotals
• CrossTab Report: crosstab with one SuiteCRM field for columns and one for rows plus a summary fields to calculate
• Report summary: there are two columns, one of which includes the values of the other sums which performs
• Pie chart: pie chart drawn by two columns selected by the user
• Histogram: Histogram drawn from two columns selected by the user
How to use SugarPrint
Using SugarPrint is very simple.
SugarPrint is automatically activated in your CRM for all modules and allows you to print to PDF, export to Excel and display a grid of information in the form.
You do not have to build any report. SugarPrint works on SuiteCRM filters and ListView results. Simply by activating the icon of SugarPrint you can print and process information as you wish.
SugarPrint allows you to print and export:
• all lists of SuiteCRM
• the dossier of each record (header and related subpanels)
• calendars of SuiteCRM (day, week, month and shared)
Supported Versions
7.0.0 to 7.11.18