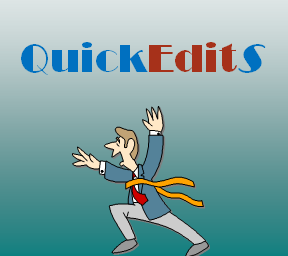 Enhanced editing of SuiteCRM module records. Work seamlessly across all SuiteCRM editions using a spreadsheet-like interface. Browse and export or import your data quickly and easily.
Installation Guide
Installing and Registering
QuickEditS comes as Online edition or a Windows OS based edition, licensed for a single Windows OS. Both editions require an activated QuickEditS license.
1. Install the SuiteCRM License for QuickEditS
Use the QE_SuiteCRM_Install.zip file to upload it via Module Loader (under SuiteCRM Admin) and activate your license with the provided license key.
2. Install QuickEditS Windows Edition
QuickEditS Windows edition is distributed as a separate zip file. It includes sample configurations enabling users to get started quickly by following several examples.
Download the QEditS###....zip file and unzip it in a Windows local drive directory (your install directory).
Locate the QuickEditS.cmd in your install directory [2].
Run it to register QuickEditS by clicking on the [Register] link under the QuickEditS logo.
Follow the prompts to request your QuickEditS Windows registration via email, using the license key from [1] above.
You will be notified via an email to complete your QuickEditS registration for Windows.
3. Running QuickEditS
Online Edition: Point your browser to https://infospectruminc.com/QEdits
Windows Edition:
Locate the QuickEditS.cmd in the Windows install directory and run it to get started. Open one of the sample QuickEditS configurations and use your SuiteCRM instance to log in.
Supported Versions
7.0.0 to 7.11.15